Ask Again Later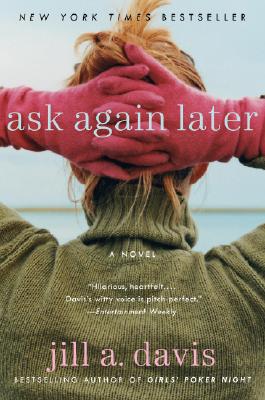 Ask Again Later
Harper Paperbacks, Paperback, 9780060875978, 246pp.
Publication Date: January 2008
* Individual store prices may vary.
Shop Local
Enter your zip code below to find indies closest to you.
Description
Emily has a tendency to live with one foot out the door. When her mother dramatically announces, "They've found a lump," Emily gladly leaves behind her career, her boyfriend, and those pesky, unans­werable questions about who she is and what she's doing with her life to be by her mother's side. But back in her childhood bedroom, Emily realizes that she hasn't run fast or far enough—especially when she opens the door, quite literally, to find her past staring her in the face.
About the Author
Jill A. Davis was a writer for Late Show with David Letterman, where she received five Emmy nominations. She has also written several television pilots and movie screenplays in addition to short stories. She lives in New York City with her husband and daughter.
Praise For Ask Again Later…
"[The] dialogue...crackles with electricity between highly charged characters and is often as funny for what's left unsaid…
-Los Angeles Times

"Great book! Hysterical!"
-The Today Show

"Hilarious, heartfelt...Davis's witty voice is pitch-perfect. A-"
-Entertainment Weekly

"There are laughs, there are tears. Nice job."
-Sacramento Bee

"Comedy and drama is perfectly balanced in Jill A. Davis' new novel, Ask Again Later…"
-Connecticut Post

"A snappy and sardonic take on learning to love your (dysfunctional) family."
-Lucinda Rosenfeld, author of WHAT SHE SAW... and WHY SHE WENT HOME

"ASK AGAIN LATER...rewards at every level."
-Richard Russo

"...you'll... veer between uncontrollable laughing fits and being stunned and misty-eyed by its poignant turns."
-Jancee Dunn, author of But Enough About Me: A Jersey Girl's Unlikely Adventures Among the Absurdly Famous

"ASK AGAIN LATER is an engaging slice of life."
-Emily Griffin, bestselling author of BABY PROOF

"Jill Davis is extremely personable, courteous, and punctual."
-Dave Letterman, host of "Late Show with David Letterman"

"... smart-gal spin on the chick-lit formula… the writing and the characters lend the book an emotional heft."
-Time Out New York

"...the humor is deftly interwoven with genuinely affecting moments that lend unexpected depth."
-Elle.com

"Davis makes the narrative work with effortless light humor and genuine thoughtfulness…Well-drawn characters with emotional integrity…"
-Kirkus Reviews

"Davis's book leavens regret and tragedy with a light-handed wit."
-Publishers Weekly

"This is one of the best books I have read so far this year."
-BlogCritics Magazine

"[ASK AGAIN LATER] is both very funny and deeply moving."
-Booklist

"...an intriguing read."
-Romantic Times
-Bookreporter.com

"[A] frank, funny journey…a brisk novel about reconnecting with parents…"
-Play Magazine (Philadelphia)