Mad World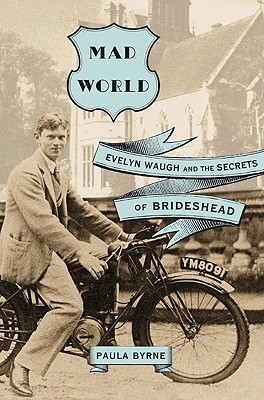 Mad World
Evelyn Waugh and the Secrets of Brideshead
Harper, Hardcover, 9780060881306, 384pp.
Publication Date: April 1, 2010
* Individual store prices may vary.
Not Currently Available for Direct Purchase
or
Shop Local
Enter your zip code below to purchase from an indie close to you.
Description
Evelyn Waugh was already famous when Brideshead Revisited was published in 1945. Written at the height of the war, the novel was, he admitted, of no "immediate propaganda value." Instead, it was the story of a household, a family and a journey of religious faith—an elegy for a vanishing world and a testimony to a family he had fallen in love with a decade earlier.
The Lygons of Madresfield were every bit as glamourous, eccentric and compelling as their counterparts in Brideshead Revisited. William Lygon, Earl Beauchamp, was a warmhearted, generous and unconventional father whose seven children adored him. When he was forced to flee the country by his scheming brother-in-law, his traumatised children stood firmly by him, defying not only the mores of the day but also their deeply religious mother.
In this engrossing biography, Paula Byrne takes an innovative approach to her subject, setting out to capture Waugh through the friendships that mattered most to him. She uncovers a man who, far from the snobbish misanthrope of popular caricature, was as loving and as complex as the family that inspired him. This brilliantly original biography unlocks for the first time the extent to which Waugh's great novel encoded and transformed his own experiences. In so doing, it illuminates the loves and obsessions that shaped his life, and brings us inevitably to the secret that dared not speak its name.
About the Author
Paula Byrne is the author of Perdita, a highly acclaimed biography of eighteenth-century celebrity Mary Robinson. A regular contributor to the Times Literary Supplement and other publications, she lives in Warwickshire, England, with her three children and her husband, the critic and biographer Jonathan Bate.
Praise For Mad World…
"An utterly captivating and generous book with all the intimacy of a diary and the scholarly soundness of a fine biography…A singular accomplishment."
-Chicago Tribune

"Well-researched and absorbing."
-Booklist

"Remarkable…not only a meticulously researched biography but also an enjoyable read."
-Library Journal

"Altogether excellent and wickedly entertaining…Scandalous detail enlivens every page of this delicious biography…Over the years I've read all the major biographies of Evelyn Waugh, and Byrne's is…the fastest moving and the most fun."
-Michael Dirda, Washington Post

"A splendid new book…While displaying the research values of a scholar Byrne also manages to write with the panache and timing of a popular novelist."
-Alexander Waugh, Daily Beast

"A considerable contribution to literary history…includes enough gossipy asides to intrigue readers."
-Publishers Weekly

"'Mad World' is the perfect title for this sparkling book, a hybrid of family romance, incisive literary criticism, and deliciously hot gossip."
-Martin Rubin, Washington Times

"An engaging book…remarkably thorough…Deftly interweaving biographical details and textual analysis, Byrne makes the connections between Waugh's art, Roman Catholic faith, and life dance."
-Heller McAlpin, Christian Science Monitor

"A sharp, entertaining literary biography…A perceptive study of how Evelyn Waugh emerged from middle-class beginnings to inhabit the tony corridors described in BRIDESHEAD REVISITED."
-Kirkus Reviews