Brief Encounters with Che Guevara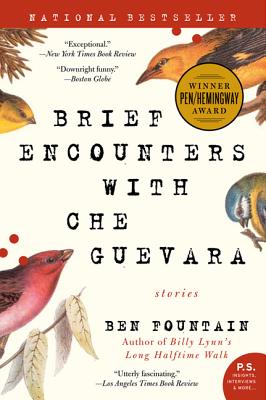 Brief Encounters with Che Guevara
Stories
Harper Perennial, Paperback, 9780060885601, 229pp.
Publication Date: April 1, 2007
* Individual store prices may vary.
Buy at Local Store
Enter your zip code below to purchase from an indie close to you.
or
Buy Here
Description
The well-meaning protagonists of Brief Encounters with Che Guevara are caught--to both disastrous and hilarious effect--in the maelstrom of political and social upheaval surrounding them. Ben Fountain's prize-winning debut speaks to the intimate connection between the foreign, the familiar, and the inescapably human.
Praise For Brief Encounters with Che Guevara…
"...exceptional story collection..."
-New York Times Book Review

"In this first collection the author brings the virtuosity of Greene and le Carre to tales of foreign adventures."
-Boston Globe

"Brilliant..."
-Seattle Times

"An impressive and entertaining book of short stories..."
-Newsday

"An impeccable debut collection; if Fountain can keep it up, he's an heir to Paul Theroux."
-Kirkus Reviews

"Exhilarating first story collection."
-New York Newsday

"…exceptional story collection…"
-Raleigh News & Observer

"Ben Fountain writes deftly about fear and disorientation abroad in his first story collection."
-Outside magazine

"[Fountain] is a gifted storyteller and his collection will blow your literary socks off."
-Tucson Citizen

"Wildly plotted, astutely observed, and beautifully rendered."
-Daivd Means, author of Assorted Fire Events and The Secret Goldfish

"Fountain has the storytelling gifts to bring the world home to us and a moral compass set to true north."
-Gary Shteyngart, author of Absurdistan

"Fountain's confidence in taking on real world problems is matched by his reluctance to pontificate or judge."
-Nell Freudenberger, author of The Dissident

"It is such an unexpected joy, in this age of introspection, to discover an American writer with a global outlook."
-Jim Crace, author of Genesis and Being Dead

"Ben Fountain...blew me out of the water. These stories are absolutely jaw-dropping."
-Audrey Bullar, team leader, Jospeh-Beth Booksellers, Cincinnati, Ohio, for PW's Galley Talk

"[A] brilliant...exhilarating book, filled with heavenly language and insight."
-Tom Bissell, author of Chasing the Sea and God Lives in St. Petersburg

". . .finely crafted. . . irony abounds in Fountain's mini-theaters of the absurd."
-Texas Monthly

"Fountain ... gets his message across without forsaking characterization and vivid descriptiveness. . .a revealing view of the human condition."
-Miami Herald

"...Fountain's stories reach for a broader engagement...This book is a step in the right direction."
-Boston Sunday Globe

". . .wonderful. . .lush, sophisticated...very funny. . .Fountain is an original..."
-Boston Herald

"Ben Fountain writes the kind of stories that Robert Louis Stevenson, Joseph Conrad and Graham Greene used to write."
-Dallas Morning News

". . .grand. . . darkly funny. . . important as anything you will see on the nightly news."
-Deseret Morning News

"[Fountain's] really a bright light on character in extreme conditions."
-Will Blythe, The News and Observer

"An exceptional story collection. . . Heartbreaking, absurd, deftly drawn. . ."
-New York Times Book Review

"Ben Fountain writes the kind of stories that Robert Louis Stevenson, Joseph Conrad and Graham Greene used to write...
-San Diego Union-Tribune

"... Fountain['s]excursions into foreign infernos have an innocence all their own."
-Cleveland Plain Dealer

"Superb debut story collection... Fountain knows the Third World; he [writes] with a precision that suggests firsthand knowledge."
-Salon

"The work of a talented writer pursuing compelling and complicated themes."
-Austin Chronicle

"...an author with a gift for reaching into the past and producing something compelling and new."
-Los Angeles Book Review

"Fountain is a writer to watch; better, a writer to read."
-Buffalo News

" ... Fountain chooses just the right details, metaphors, similes and descriptions...life rendered in sentences seem[s] as life lived."
-San Francisco Chronicle

"... an author with a gift for reaching into the past and producing something compelling and new."
-Baltimore Sun

"Ben Fountain takes readers all over the world, navigating the alleys of the human soul with an expert's hand."
-The California Aggie

" ...the ambition and global outlook of Fountain's fiction marks a welcome addition to the literature produced in our state."
-Houston Chronicle

"Short-story collections don't come much better than this. Brief Encounters With Che Guevara offers pointed prose, nimble revelation..."
-Philadelphia Inquirer

"Fountain... is the perfect author to convert people who don't read short stories."
-Arkansas Democrat-Gazette

"He imbues each narrative with an understanding of international politics and conflicts, and the sticky moral complexities involved."
-Cleveland Plain Dealer