Superfreakonomics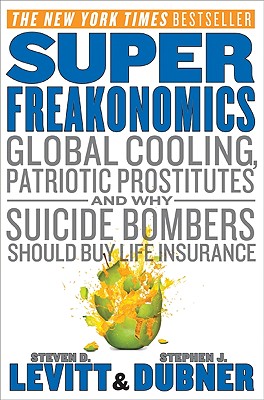 Superfreakonomics
Global Cooling, Patriotic Prostitutes, and Why Suicide Bombers Should Buy Life Insurance
William Morrow & Company, Hardcover, 9780060889579, 288pp.
Publication Date: October 20, 2009
* Individual store prices may vary.
Buy at Local Store
Enter your zip code below to purchase from an indie close to you.
or
Buy Here
Description
Freakonomics "lived on the New York Times "bestseller list for an astonishing two years. Now authors Steven D. Levitt and Stephen J. Dubner return with more iconoclastic insights and observations in SuperFreakonomics" the long awaited follow-up to their New York Times "Notable blockbuster. Based on revolutionary research and original studies SuperFreakonomics "promises to once again challenge our view of the way the world really "works.
Saturday, Dec 5, 2009
In October, SuperFreakonomics author Steve Levitt spoke with host Scott Simon and outlined some provocative ideas for addressing the problem of global warming, like pumping sulfur dioxide into the upper atmosphere to cool down the earth. The Union of Concerned Scientists took issue, and Levitt is back to discuss his ideas with Peter Frumhoff, director of science and policy for the UCS. More at NPR.org
Saturday, Oct 17, 2009
In the follow-up to his best-selling book, Freakonomics, Steven Levitt applies economic theory to more nontraditional topics, including solutions to global warming and the price of oral sex. Host Scott Simon talks with Levitt about his new book, Superfreakonomics: Global Cooling, Patriotic Prostitutes, and Why Suicide Bombers Should Buy Life Insurance. More at NPR.org