Brilliant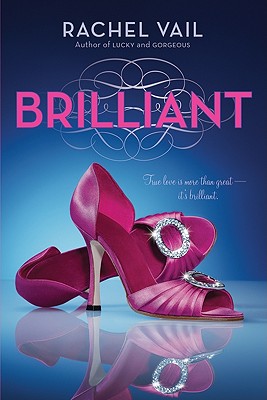 Brilliant
Harper Teen, Hardcover, 9780060890490, 249pp.
Publication Date: May 2010
* Individual store prices may vary.
Shop Local
Enter your zip code below to find indies closest to you.
Description
Everything is going to be fine . . . .
Quinn Avery can handle change. It's just paint, right? Bright, blinding white paint covering her once dazzling red bedroom walls. Quinn knows she shouldn't be angry at her mom--she's doing what she must to sell the house--but still, Quinn is beyond mad, and she doesn't know what to do about it.
Until now, Quinn was doing a pretty good job at pretending to be her old self--calm and brilliant Avery daughter, responsible big sister to Allison and Phoebe, piano virtuoso, girl who makes everyone proud--but without the sanctuary of her room, a new, wild Quinn is emerging. Lying, sneaking out, partying, Quinn is practically asking to get caught. When Quinn adds kissing the wrong boys--including her sister's boyfriend and her own piano teacher--to her list of crimes, has she gone too far to save herself?
Brilliant, the final book in Rachel Vail's critically acclaimed sisterhood series, which includes Lucky and Gorgeous, follows Quinn through a summer of change as she discovers that while letting go is never easy, hanging on can be even harder. Witty and poignant, Brilliant is the perfect ending to this addictive trilogy of interconnected sister stories.
About the Author
Rachel Vail is the author of the Friendship Ring series and the Avery sisters trilogy, which includes the critically acclaimed Lucky and Gorgeous, as well as the novels You, Maybe; If We Kiss; Do-Over; Ever After; Daring to be Abigail; and Wonder. Rachel is also the author of the picture books Righty and Lefty: A Tale of Two Feet, Sometimes I m Bombaloo, and the series of early reader books Mama Rex & T. Rachel lives in New York City with her husband and two sons.
Praise For Brilliant…
Praise for Brilliant: "Good girls and rebels alike will be able to identify with this adolescent rite of passage. A natural choice for teens waiting for their next Sarah Dessen fix."
-School Library Journal

"Vail has done a superb job. Readers who pick this title up will definitely want to backtrack to the earlier titles, and those who've heard Phoebe's and Allison's takes won't want to miss Quinn's."
-Bulletin of the Center for Children's Books

"Vail ends this trilogy on a high note, one that should especially resonate with teens whose lives have changed with the economy. "
-Kirkus Reviews

"Vail shows a clear understanding of the everyday turmoil faced by today's teens and handles them with wit and obvious affection. If they haven't already read its predecessor, Lucky (2008), teens will want to after finishing this one."
-Kirkus Reviews