Why Good People Do Bad Things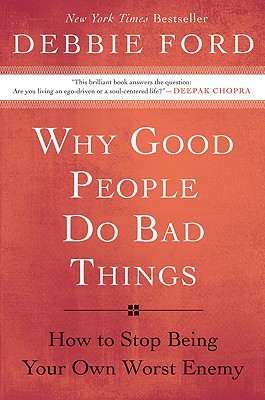 Why Good People Do Bad Things
How to Stop Being Your Own Worst Enemy
HarperOne, Paperback, 9780060897383, 243pp.
Publication Date: April 14, 2009
* Individual store prices may vary.
Buy Now
or
Shop Local
Enter your zip code below to purchase from an indie close to you.
Description
Discover a Life Filled with Passion, Meaning, and Purpose
New York Times bestselling author Debbie Ford leads us into the heart of the duality that unknowingly operates within each one of us. Providing the tools to end self-sabotage, Ford ultimately knocks down the facade of the false self and shows us how to heal the split between light and dark and live the authentic life within our reach.
About the Author
Debbie Ford is the national bestselling author of The Dark Side of the Light Chasers, The Secret of the Shadow, Spiritual Divorce, The Right Questions, The Best Year of Your Life, Why Good People Do Bad Things, and The 21-Day Consciousness Cleanse, and a coauthor of The Shadow Effect. Ford conducts workshops and trainings around the world supporting lifelong personal, emotional, and spiritual education and transformation. She lives with her son in San Diego, California.
Praise For Why Good People Do Bad Things…
"In this book, Debbie Ford brilliantly exposes the greatest human tragedy: the loss of the authentic self by ineffective parenting and the resulting split that ravages the life of the self and its consequences for others. I heartily recommend this book to everyone."
-Harville Hendrix, Ph.D., author of Getting the Love You Want

"Anyone who reads this book will find the means to become whole once again."
-Deepak Chopra, author, Third Jesus: The Christ We Cannot Ignore

"This masterpiece of unflinching clarity is Debbie Ford's most important and brilliant book."
-Andrew Harvey, author of Son of Man

"...a sage discussion of the dualistic nature of the human mind..."
-Richard Moss, MD, author of The Mandala of Being

"An exceptionally helpful book."
-Paul Babiak, Ph.D., coauthor of Snakes In Suits: When Psychopaths Go To Work

"Debbie Ford has an amazing way of casting light onto our personal darkness. She's done it before, and now she's done it again. She's a great explorer of our depths."
-Marianne Williamson, author of The Age of Miracles

"Debbie Ford has hit a spiritual bullseye in this extraordinary roadmap to self-understanding, compassion, and what we all want most -- happiness. I was touched, inspired, and enlightened by Debbie's masterful blend of wisdom and heart. This landmark book will help many people."
-Alan Cohen, author of Why Your Life Sucks and What You Can Do About It