The War Prayer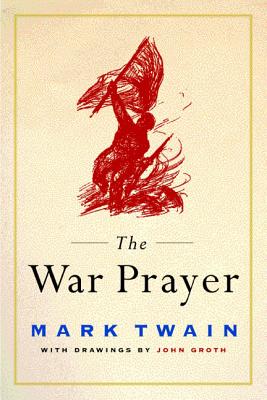 The War Prayer
Harper Perennial, Paperback, 9780060911133, 96pp.
Publication Date: December 2001
* Individual store prices may vary.
Shop Local
Enter your zip code below to find indies closest to you.
Description
Written by Mark Twain during the Philippine-American War in the first decade of the twentieth century, The War Prayer tells of a patriotic church service held to send the town's young men off to war. During the service, a stranger enters and addresses the gathering. He tells the patriotic crowd that their prayers for victory are double-edged-by praying for victory they are also praying for the destruction of the enemy... for the destruction of human life.
Originally rejected for publication in 1905 as "not quite suited to a woman's magazine," this antiwar parable remained unpublished until 1923, when Twain's literary executor collected it in the volume Europe and Elsewhere. Handsomely illustrated by the artist and war correspondent Philip Groth, The War Prayer remains a relevant classic by an American icon.
About the Author
Shelley Fisher Fishkin is Joseph S. Atha Professor of Humanities, Professor of English and Director of American Studies at Stanford University. She is the author of "Lighting Out for the Territory: Reflections on Mark Twain and American Culture "(1997); "Was Huck Black? Mark Twain and African-American Voices "(1993), selected as an Outstanding Academic Book by "Choice; "and "From Fact to Fiction: Journalism and Imaginative Writing in America "(2000), winner of a Frank Luther Mott/Kappa Tau Alpha Award for outstanding research in journalism history. She is also the editor of the 29-volume "Oxford Mark Twain "and the "Oxford Historical Guide to Mark Twain. "Barry Moser is one of the foremost wood engravers in the United States and is the proprietor of the Pennyroyal Press. Among other books, he illustrated "Huckleberry Finn "(California, 1985), "Moby Dick "(California, 1981), "Dante's Inferno "(California 1980), "Purgatorio "(California, 1981), and "Paradiso "(California, 1984), and the "Holy Bible "(1999). The Mark Twain Project is housed within the Mark Twain Papers, the world's largest archive of primary materials by this major American writer. Under the direction of General Editor Robert H. Hirst, the Project's five editors are producing the first comprehensive edition of all Mark Twain's writings, more than thirty volumes of which have so far been published by the University of California Press.