The War Prayer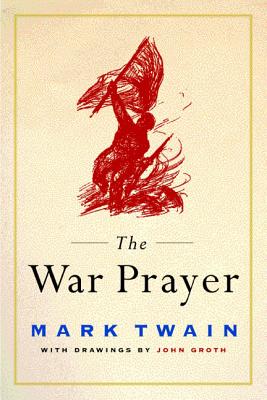 The War Prayer
Harper Perennial, Paperback, 9780060911133, 96pp.
Publication Date: December 28, 2001
* Individual store prices may vary.
Buy Now
or
Shop Local
Enter your zip code below to purchase from an indie close to you.
Description
Written by Mark Twain during the Philippine-American War in the first decade of the twentieth century, The War Prayer tells of a patriotic church service held to send the town's young men off to war. During the service, a stranger enters and addresses the gathering. He tells the patriotic crowd that their prayers for victory are double-edged-by praying for victory they are also praying for the destruction of the enemy... for the destruction of human life.
Originally rejected for publication in 1905 as "not quite suited to a woman's magazine," this antiwar parable remained unpublished until 1923, when Twain's literary executor collected it in the volume Europe and Elsewhere. Handsomely illustrated by the artist and war correspondent Philip Groth, The War Prayer remains a relevant classic by an American icon.
About the Author
Mark Twain, born Samuel Langhorne Clemens, was an American humorist and writer, who is best known for his enduring novels The Adventures of Tom Sawyer and Adventures of Huckleberry Finn, which has been called the Great American Novel. Raised in Hannibal, Missouri, Twain held a variety of jobs including typesetter, riverboat pilot, and miner before achieving nationwide attention for his work as a journalist with The Celebrated Jumping Frog of Calaveras County. He earned critical and popular praise for his wit and enjoyed a successful career as a public speaker in addition to his writing. Twain s works were remarkable for his ability to capture colloquial speech, although his adherence to the vernacular of the time has resulted in the suppression of his works by schools in modern times. Twain s birth in 1835 coincided with a visit by Halley s Comet, and Twain predicted, accurately, that he would go out with it as well, dying the day following the comet s return in 1910.