The Good Neighbor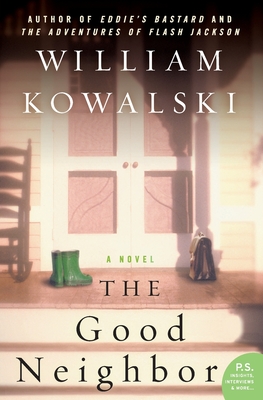 The Good Neighbor
Harper Perennial, Paperback, 9780060936259, 406pp.
Publication Date: December 13, 2005
* Individual store prices may vary.
Buy at Local Store
Enter your zip code below to purchase from an indie close to you.
or
Buy Here
Description
When Francie and Colt Hart drive past an abandoned 150-year-old farmhouse in rural Pennsylvania, they both fall head-over-heels in love with it -- but for entirely different reasons. Colt, an ambitious, hard-charging stock trader, sees it as a potential showcase for his wealth. Francie, long dependent on antidepressants, hopes it will inspire her to resume the literary life she abandoned when she married Colt ten years before; perhaps, she thinks, it will save their faltering marriage. But the more they learn about the house, and especially the tragic history of its previous occupants (whose descendants are their new neighbors), the more it threatens to drive them apart.
This P.S. edition features an extra 16 pages of insights into the book, including author interviews, recommended reading, and more.
Praise For The Good Neighbor…
Praise for THE GOOD NEIGHBOR: "Kowalski's vigorous storytelling will keep the pages turning."
-Publishers Weekly

"Atmospheric, emotional and beautifully eloquent, Kowalski weaves an engrossing story."
-The Daily Record

"[Kowalski] meticulously brings the strands of his narrative together, building toward a credible moving conclusion."
-Booklist

"The story is enchanting as the house. The plot is powerful…it surges forwards with tremendous pace and vigour."
-The Observer

"[Kowalski] has the knack of making you care for his characters."
-The Guardian

"Kowalski has a gift for storytelling."
-The Tampa Tribune-Times

"Kowalski is a gifted storyteller who deserves a following."
-San Antonio Express News

"Kowalski is a talented stylist."
-New York Times Book Review

"This is a mature novel by an unassuming writer. Kowalski is the real deal."
-Buffalo News

"A coming-of-gender story."
-Library Journal

"A book with characters that sing with life, dialogue that is lovely and real and images that resonate."
-Globe and Mail (Toronto)

"An appealing and original story."
-Kirkus Reviews

"SOMEWHERE SOUTH OF HERE is one of the sweetest–tempered books around."
-East Valley Tribune, Mesa, AZ

"Somewhere South of Here has a large heart and disarming voice."
-Baltimore Sun

"It is hard to resist the feel–good mood that Kowalski creates."
-Booklist

"Sheer enchantment."
-The Providence Sunday Journal

"Kowalski's characters could be escapees from a Kerouac novel. [The] novel has all the bravado of a barstool reminiscence…entertaining."
-New York Times Book Review

"Kowalski is adept at keeping the story tight and moving at a comfortable pace."
-Rocky Mountain News

"A grand debut. Eddie's Bastard is a beguiling blend of narrative con brio, human-heartedness, and zany surprises."
-Gail Godwin, New York Times bestselling author of Evensong

"A mesmerizing debut...skillfully crafted and highly imaginative."
-Tulsa World

"A notable literary debut...Here's one satisfying novel by a writer of great promise."
-America Magazine

"Entertaining."
-Kirkus Reviews

"The 28 year-old author gives his first novel an appealing Dickensian flavor."
-People

Exhuberant...Kowalski is a talented stylist.
-New York Times Book Review

"Vividly impressionistic prose."
-London Times