The Other Face of America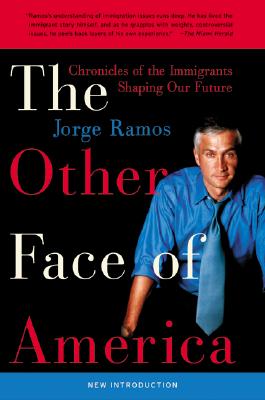 The Other Face of America
Chronicles of the Immigrants Shaping Our Future
Harper Perennial, Paperback, 9780060938246, 288pp.
Publication Date: April 15, 2003
* Individual store prices may vary.
Buy Now
or
Shop Local
Enter your zip code below to purchase from an indie close to you.
Description
Immigrants in America are at the heart of what makes this country the most prosperous and visionary in the world. Writing from his own heartfelt perspective as an immigrant, Jorge Ramos, one of the worlds most popular and well-respected Spanish-language television news broadcasters, listens to and explores stories of dozens of immigrants who decided to change their lives and risk everything -- families, jobs, history, and their own culture -- in order to pursue a better, freer, and opportunity-filled future in the United States. In his famously clear voice, Jorge Ramos brings to life the tales of individuals from Mexico, Puerto Rico, Cuba, and the Dominican Republic, among other countries, and explains why they first immigrated, what their dreams are, how they deal with American racism, and what they believe their future in America will hold for them and their children.
From the Vieques controversy to the "Spanglish" phenomenon to the explosion of Latino creativity in the arts, Ramos shows that there is a new face in America -- one whose colors and countries of origin are as diverse as the country it has adopted as home.
About the Author
Jorge Ramos has won eight Emmy Awards and the Maria Moors Cabot Award for excellence in journalism. He has been the anchorman for Univision News for the last twenty-one years and has appeared on NBC's "Today", CNN's "Talk Back Live", ABC's "Nightline", CBS's "Early Show", and Fox News's "The O'Reilly Factor", among others. He is the bestselling author of "No Borders: A Journalist's Search for Home" and "Dying to Cross". He lives in Florida.
Jorge Ramos ha sido el conductor de "Noticiero Univision" desde 1986. Ha ganado siete premios Emmy y el premio Maria Moors Cabot por excelencia en perio dismo otorgado por la Universidad de Columbia. AdemAs ha sido invitado a varios de los mAs importantes programas de televisiOn como "Nightline" de ABC, "Today Show" de NBC, "Larry King Live" de CNN, "The O'Reilly Factor" de FOX News y "Charlie Rose" de PBS, entre otros. Es el autor bestseller de "Atravesando Fronteras", "La Ola Latina", "La Otra Cara de AmErica", "Lo Que Vi y Morir en el Intento". Actualmente vive en Miami.
Praise For The Other Face of America…
"This significant book belongs in all libraries."
-Library Journal

"Entertaining, informative and well done."
-Publishers Weekly