Art Lover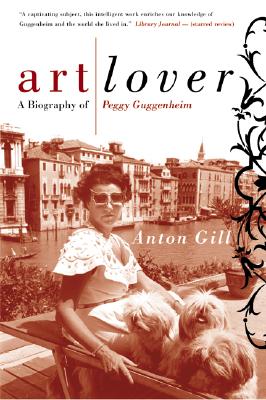 Art Lover
A Biography of Peggy Guggenheim
Harper Perennial, Paperback, 9780060956813, 528pp.
Publication Date: May 13, 2003
* Individual store prices may vary.
Buy Now
or
Shop Local
Enter your zip code below to purchase from an indie close to you.
Description
Peggy Guggenheim -- millionairess, legendary lover, sadomasochist, appalling parent, selective miser -- was one of the greatest and most notorious art patrons of the twentieth century.
After her father, Benjamin Guggenheim, went down with the Titanic, the young heiress came into a small fortune and left for Europe. She married the writer Laurence Vail and joined the American expatriate bohemian set. Though her many lovers included such lions of art and literature as Samuel Beckett, Max Ernst (whom she later married), Yves Tanguy, and Roland Penrose, real love always seemed to elude her.
In the late 1930s, Peggy set up one of the first galleries of modern art in London, quickly acquiring a magnificent selection of works, buying great numbers of paintings from artists fleeing to America after the Nazi invasion of France. Escaping from Vichy, she moved back to New York, where she was a vital part of the new American abstract expressionist movement.
Meticulously researched, filled with colorful incident, and boasting a distinguished cast, Anton Gill's biography reveals the inner drives of a remarkable woman and indefatigable patron of the arts.
About the Author
Anton Gill was educated at Chigwell School and Clare College, Cambridge. He became a full-time writer in 1984 after a few years working in the theatre, for the Arts Council and for the BBC. He is the author of a number of books, largely in the field of contemporary history, including studies of Germany before, during, and after World War II. He is also the author of "Art Lover", a highly acclaimed biography of the collector of surreal and abstract art Peggy Guggenheim. When he isn't writing, Anton Gill travels. When he is, he lives in Bloomsbury, London.