Legends, Lies & Cherished Myths of American History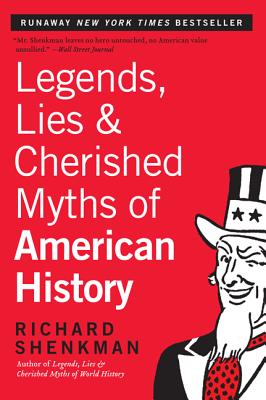 Legends, Lies & Cherished Myths of American History
William Morrow & Company, Paperback, 9780060972615, 224pp.
Publication Date: September 20, 1989
* Individual store prices may vary.
Buy Now
or
Shop Local
Enter your zip code below to purchase from an indie close to you.
Description
The truth and nothing but the truth Richard Shenkman sheds light on America's most believed legends.
The story of Columbus discovering the world was round was invented by Washington Irving.
The pilgrims never lived in log cabins.
In Concord, Massachusetts, a third of all babies born in the twenty years before the Revolution were conceived out of wedlock.
Washington may have never told a lie, but he loved to drink and dance, and he fell in love with his best friend's wife.
Independence wasn't declared on July 4th.
There's no evidence that anyone died in a frontier shootout at high noon.
After World War II, the U.S. government concluded that Japan would have surrendered within months, even if we had not bombed Hiroshima and Nagasaki.
About the Author
Richard Shenkman is an associate professor of history at George Mason University and the New York Times bestselling author of six history books, including Presidential Ambition; Legends, Lies & Cherished Myths of World History; and Just How Stupid Are We? Facing the Truth About the American Voter. The editor and founder of George Mason University's History News Network website, he can be seen regularly on Fox News, CNN, and MSNBC.