State of Fear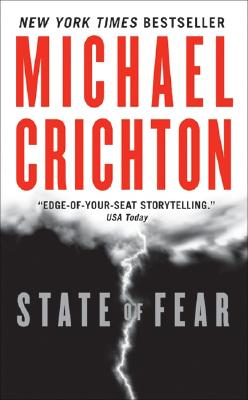 State of Fear
Avon, Mass Market Paperback, 9780061015731, 688pp.
Publication Date: November 1, 2005
* Individual store prices may vary.
Not Currently Available for Direct Purchase
or
Shop Local
Enter your zip code below to purchase from an indie close to you.
Description
In Tokyo, in Los Angeles, in Antarctica, in the Solomon Islands . . . an intelligence agent races to put all the pieces together to prevent a global catastrophe.
Praise For State of Fear…
"Crichton knows how to craft a tale, one that keeps the reader turning the pages."
-Houston Chronicle

"[Crichton's] expert manipulation of tension pays off in page-turning dividends. Cunningly orchestrated mayhem."
-Express

"Terrific fun."
-Daily Telegraph (London)

"There's no one else like him…a fast, fun read."
-Weekly Standard

"STATE OF FEAR grabs you from the start."
-The Weekend Australian

"In STATE OF FEAR Crichton weaves a stunning fiction around the issue of global warming."
-Australia Gold Coast Bulletin

"STATE OF FEAR is the world's first page-turner that people will want to read in one gulp."
-Montery County Herald

"A gripping techno thriller that…spares no expense when it comes to adventure, suspense and, ultimately, satisfaction."
-Pittsburgh Post-Gazette

"Crichton has written a book that deserves to be taken seriously."
-The New Yorker

"The thrills of Crichton's latest are interspersed with fascinating facts and data. Perhaps his most serious and important book yet."
-Booklist

"Cliffhanging action sequences."
-New York Times

"Provocative and controversial. [Crichton] marries compelling subject matter with edge-of-your-seat storytelling."
-USA Today

"One of the real pleasures of Crichton's books is their erudite polish."
-Slate

"…he understands science and how to separate fact from fiction. Impressive documentation."
-Washington Times

"For thriller fans, STATE OF FEAR is the perfect tonic for a weekend when you're snowbound."
-The Ottowa Sun

"In STATE OF FEAR, Michael Crichton delivers a lightening technopolitical thriller...every bit as informative as it is entertaining."
-Wall Street Journal

"Every bit as informative as it is entertaining. And it is very entertaining."
-Wall Street Journal

"Very enjoyable."
-The Evening Standard (London)

"Fascinating for how Crichton was trying to make the very absence of fear spooky."
-San Francisco Chronicle

"…this proves a pleasant way of learning a lot worth knowing."
-Philadelphia Inquirer

"You have to hand it to Michael Crichton; he knows how to tell a story."
-Wisconsin State Journal

"STATE OF FEAR is a valuable education in the guise of entertainment. Do yourself a favor and buy it."
-Pittsburgh Post-Gazette

"[A] snappy eco-thriller."
-Entertainment Weekly

"[Crichton's] expert manipulation of tension pays off in page-turning dividends. Cunningly orchestrated mayhem."
-Milwaukee Journal Sentinel

"A deftly crafted action/adventure novel."
-Pittsburgh Tribune

"A master. A connoisseur of catastrophe."
-Los Angeles Times

"Definitely page-turning."
-Detroit Free Press

"STATE OF FEAR is replete with heart-pounding suspense."
-Albany Times Union

"STATE OF FEAR is Michael Crichton's best."
-Bookreporter.com

"This is definitely one for the Christmas list."
-National Review

"Michael Crichton's new book will appeal to your inner techie."
-Washington Post Book World

"The king of the techno-thriller has once again given us a gripping, action-packed yarn."
-Birmingham Post

"Scary? You bet."
-People

"He imparts science while entertaining readers."
-Denver Post

…Plenty of thrills, chills and spills. STATE OF FEAR is required reading."
-The Electricity Daily

"An exciting story…in the hands of a master story-teller like Crichton, it's good entertainment."
-Sunday Telegraph

"Fast-faced and a fun read. A breath of fresh air."
-The Vancouver Province

"STATE OF FEAR is an exciting yarn."
-The Liverpool Daily Post