Unbelievable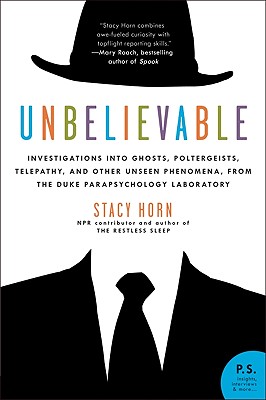 Unbelievable
Investigations Into Ghosts, Poltergeists, Telepathy, and Other Unseen Phenomena, from the Duke Parapsychology Laborato
Ecco Press, Paperback, 9780061116902, 289pp.
Publication Date: March 9, 2010
* Individual store prices may vary.
Buy Now
or
Shop Local
Enter your zip code below to purchase from an indie close to you.
Description
From The Sixth Sense to Medium, Ghost Whisperer to Ghost Hunters, the paranormal stirs heated debate, spawning millions of believers and skeptics alike. Nearly half of us say we believe in ghosts, and two-thirds of us believe in life after death.
What would you make of rain barrels that refill themselves? Psychic horses? Mind-reading Cold War spies? For a group of scientists at the Duke Parapsychology Lab under the leadership of Dr. J. B. Rhine considered the Einstein of the paranormal such mysteries demanded further investigation. From 1930 to 1980, these dedicated men and women attempted to test the bizarre, the frightening, and the unexplainable against the rigors of science, ultimately finding proof that the human mind possesses telepathic powers.
About the Author
Stacy Horn, a contributor to National Public Radio's All Things Considered, is the author of The Restless Sleep, Waiting for My Cats to Die: A Memoir, and Cyberville. She lives in New York City.
Praise For Unbelievable…
"Some of the explanations here, backed by scientific fact, will send shivers up readers' spines."
-Bust Magazine