The Bingo Palace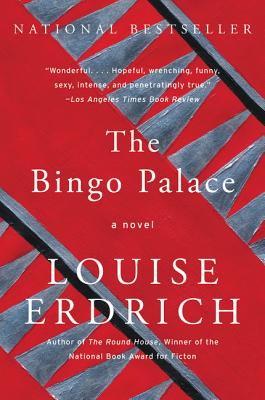 The Bingo Palace
Harper Perennial, Paperback, 9780061129759, 274pp.
Publication Date: August 22, 2006
* Individual store prices may vary.
Buy at Local Store
Enter your zip code below to purchase from an indie close to you.
or
Buy Here
Description
A novel of spiritual death, lyrical prose, and wild hope: a striking, luminous chapter in Louise Erdrich's bestselling Ojibwe saga.
At the crossroads of his life, Lipsha Morrissey is summoned by his grandmother to return to the reservation. There, he falls in love for the very first time with the beautiful Shawnee Ray, who's already considering a marriage proposal from Lipsha's wealthy entrepreneurial boss, Lyman Lamartine. But when all efforts to win Shawnee's affections go hopelessly awry, Lipsha seeks out his great-grandmother for a magical solution to his romantic dilemma on sacred ground where a federally sanctioned bingo palace is slated for construction.
Louise Erdrich's luminous novel The Bingo Palace is a tale of spiritual death and reawakening; of money, desperate love, and wild hope; and of the enduring power of cherished dreams.
About the Author
LOUISE ERDRICH lives with her family in Minnesota and is the owner of Birchbark Books, an independent bookstore. Ms. Erdrich is a member of the Turtle Mountain Band of Chippewa, and this series which will, in the end, span one hundred years in the life of an Ojibwe woman was inspired by Ms. Erdrich s own genealogy. Makoons continues the story that started with The Birchbark House, a National Book Award finalist; The Game of Silence, winner of the Scott O Dell Award for Historical Fiction in 2006; the acclaimed The Porcupine Year; and Chickadee, winner of the Scott O Dell Award for Historical Fiction in 2013. Ms. Erdrich is the bestselling author of many critically acclaimed novels for adults as well, including the Pulitzer Prize finalist The Plague of Doves, the National Book Award medalist The Round House and National Book Award finalist The Last Report on the Miracles at Little No Horse. She is also the author of the picture book Grandmother s Pigeon, illustrated by Jim LaMarche. You can visit her online at www.readlouiseerdrich.com and www.birchbarkbooks.com.