Sacred Games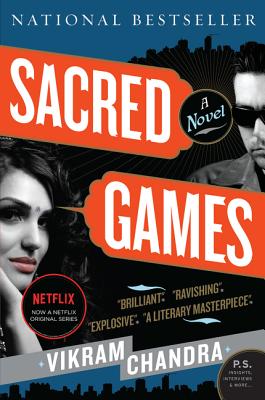 Sacred Games
Harper Perennial, Paperback, 9780061130366, 964pp.
Publication Date: December 18, 2007
* Individual store prices may vary.
Buy at Local Store
Enter your zip code below to purchase from an indie close to you.
or
Not Currently Available for Direct Purchase
Description
A policeman, a criminal overlord, a Bollywood film star, beggars, cultists, spies, and terrorists the lives of the privileged, the famous, the wretched, and the bloodthirsty interweave with cataclysmic consequences amid the chaos of modern-day Mumbai, in this soaring, uncompromising, and unforgettable epic masterwork of literary art.
Praise For Sacred Games…
"SACRED GAMES [is] as hard to put down as it is to pick up."
-New York Times Book Review

"Page after page it plucks me from the here and now."
-Sven Birkerts, Boston Sunday Globe

"Chandra gives a startling, blood-pumping fallible humanity to his characters."
-Sandip Roy, San Francisco Chronicle

"Ravishing…Extraordinary...A chaotic and luminous whole."
-Entertainment Weekly

"Chandra…knows exactly when to break rules and when to follow them…Chandra's genius is in the way he trusts his reader."
-Los Angeles Times

"Ambitious, sprawling...combines the attractions of 19th-century fiction and a modern police procedural."
-People

"A genre-bending, multilayered saga...expertly paced and nuanced...A sheer entertainment extravaganza."
-Elle

"As sprawling as the heat-drenched city it richly portrays."
-New York Times

"Bold, fresh and big…SACRED GAMES deserves praise for its ambitions but also for its terrific achievement."
-Maureen Corrigan, NPR's Fresh Air

"Monumental…Chandra brilliantly evokes...Mumbai...in all its vibrant chaos."
-Wall Street Journal

"It's a rare pleasure to be arrested by this novel's thunderous momentum...Few readers will be unenthralled."
-Bruce Allen, Boston Sunday Globe

"[Sacred Games] brings us to India in full force…Impossibly rich."
-Daily News

"makes palpable a very foreign city, explores deep moral questions...BUY IT."
-New York magazine

"SACRED GAMES envisions a world--an underworld actually--that is complete, persuasive, and startlingly original."
-Newsday

"One of the most brilliant...tales I've read in years...SACRED GAMES is compulsively readable."
-Eric Ormsby, New York Sun

"Intoxicating... SACRED GAMES offers up a world worthy of the effort required to take it all in."
-Rocky Mountain News

"A terrific, brilliant earthmover of a book. Crime and Punishment crossed with The Godfather, with some Sopranos-inspired irony.""
-John Freeman, Atlanta Journal-Constitution

"The pacing and mother lode of cinematic details in the narrative make the journey...worth taking, even more than once."
-Daily News

"Well-written entertainment…a plot of Victorian complexity."
-Atlantic Monthly

"Electrifying…Chandra pulls off some extraordinary writing…He…hands us the keys to the city and reveals its sordid mysteries."
-Carl Bromley, The Nation

"A work of masterfully crafted fiction...a gritty and grounded epic reminiscent of voluminous and character-rich nineteenth century literature."
-San Diego Union-Tribune

"SACRED GAMES won't deliver nirvana, but submerging in it, like the Ganges itself, can restore your wonder."
-Cleveland Plain Dealer

"A grand story...carefully and passionately told…The temptation upon turning the last page will be to return to the first."
-Denver Post

"Unfailingly interesting…Superbly realized…The novel bursts with characters…I almost never wanted to put it down."
-Houston Chronicle

"A pulsing thriller...Quite enough to enrapture a reader for 900 pages...the payoff is grand and satisfying."
-Seattle Times

"Spiced with flavors of the subcontinent, this epic novel-part crime thriller, part human drama, part travelogue-is entirely entertaining."
-Parade

"Exhilaratingly ambitious and entertaining…[A] vivid portrait of the clash and jangle and excitement of modern-day Mumbai."
-BookPage

"An irresistible story that you simply cannot keep out of your head...It is, more than anything else, literary magic."
-Christian Science Monitor

"Dazzling…Chandra's sure-handed writing injects the novel with layers of depth and meaning."
-Sunday Oregonian

"Lavish, accomplished, and…elegant…[SACRED GAMES] offers Western readers a panoramic view of contemporary India."
-Tennessean

"Superb…complex, mesmerizing...a full-immersion experience, as if Dickens had written THE GODFATHER and placed it in India."
-Grand Rapids Press

"Exquisite...A passionate tribute to contemporary India."
-Salon.com

"A remarkable blend of literary novel and potboiler."
-San Antonio Express-News

"Rich...Utterly convincing..A monumental portrait of interwoven lives that lingers with a reader long after the case is closed."
-Globe and Mail (Toronto)

"Riveting...A splendidly big, finely made book destined to dazzle a big audience."
-Booklist (starred review)

"Masterfully crafted fiction…the resonance and elegance...of his writing…put across the full vulnerability and humanity of his characters."
-Blogcritics.org Books

"A classical Bombay underworld epic...Raymond Chandler with songs."
-ABC magazine

"Unstinting in its ambition...flourishing in its characters…[An] intriguing act of literary decolonization…Sacred Games is cinematic in scope."
-Newsweek International Edition