Sacred Games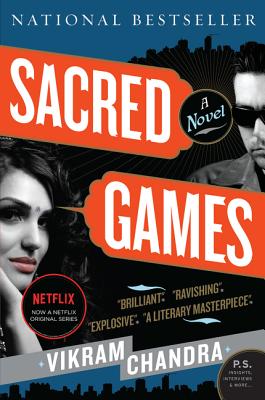 Sacred Games
Harper Perennial, Paperback, 9780061130366, 964pp.
Publication Date: December 18, 2007
* Individual store prices may vary.
Buy at Local Store
Enter your zip code below to purchase from an indie close to you.
or
Buy Here
Description
A policeman, a criminal overlord, a Bollywood film star, beggars, cultists, spies, and terrorists--the lives of the privileged, the famous, the wretched, and the bloodthirsty interweave with cataclysmic consequences amid the chaos of modern-day Mumbai, in this soaring, uncompromising, and unforgettable epic masterwork of literary art.
About the Author
Vikram Chandra is the author of the novel Red Earth and Pouring Rain (Commonwealth Writers' Prize; David Higham Prize), and the short story collection Love and Longing in Bombay (Commonwealth Writers' Prize; New York Times Notable Book). Born in New Delhi, he divides his time between Mumbai and Berkeley, where he teaches at the University of California.
Praise For Sacred Games…
"SACRED GAMES [is] as hard to put down as it is to pick up."
-New York Times Book Review

"Page after page it plucks me from the here and now."
-Sven Birkerts, Boston Sunday Globe

"Chandra gives a startling, blood-pumping fallible humanity to his characters."
-Sandip Roy, San Francisco Chronicle

"Ravishing…Extraordinary...A chaotic and luminous whole."
-Entertainment Weekly

"Chandra…knows exactly when to break rules and when to follow them…Chandra's genius is in the way he trusts his reader."
-Los Angeles Times

"Ambitious, sprawling...combines the attractions of 19th-century fiction and a modern police procedural."
-People

"A genre-bending, multilayered saga...expertly paced and nuanced...A sheer entertainment extravaganza."
-Elle

"As sprawling as the heat-drenched city it richly portrays."
-New York Times

"Bold, fresh and big…SACRED GAMES deserves praise for its ambitions but also for its terrific achievement."
-Maureen Corrigan, NPR's Fresh Air

"Monumental…Chandra brilliantly evokes...Mumbai...in all its vibrant chaos."
-Wall Street Journal

"It's a rare pleasure to be arrested by this novel's thunderous momentum...Few readers will be unenthralled."
-Bruce Allen, Boston Sunday Globe

"[Sacred Games] brings us to India in full force…Impossibly rich."
-Daily News

"makes palpable a very foreign city, explores deep moral questions...BUY IT."
-New York magazine

"SACRED GAMES envisions a world--an underworld actually--that is complete, persuasive, and startlingly original."
-Newsday

"One of the most brilliant...tales I've read in years...SACRED GAMES is compulsively readable."
-Eric Ormsby, New York Sun

"Intoxicating... SACRED GAMES offers up a world worthy of the effort required to take it all in."
-Rocky Mountain News

"A terrific, brilliant earthmover of a book. Crime and Punishment crossed with The Godfather, with some Sopranos-inspired irony.""
-John Freeman, Atlanta Journal-Constitution

"The pacing and mother lode of cinematic details in the narrative make the journey...worth taking, even more than once."
-Daily News

"Well-written entertainment…a plot of Victorian complexity."
-Atlantic Monthly

"Electrifying…Chandra pulls off some extraordinary writing…He…hands us the keys to the city and reveals its sordid mysteries."
-Carl Bromley, The Nation

"A work of masterfully crafted fiction...a gritty and grounded epic reminiscent of voluminous and character-rich nineteenth century literature."
-San Diego Union-Tribune

"SACRED GAMES won't deliver nirvana, but submerging in it, like the Ganges itself, can restore your wonder."
-Cleveland Plain Dealer

"A grand story...carefully and passionately told…The temptation upon turning the last page will be to return to the first."
-Denver Post

"Unfailingly interesting…Superbly realized…The novel bursts with characters…I almost never wanted to put it down."
-Houston Chronicle

"A pulsing thriller...Quite enough to enrapture a reader for 900 pages...the payoff is grand and satisfying."
-Seattle Times

"Spiced with flavors of the subcontinent, this epic novel-part crime thriller, part human drama, part travelogue-is entirely entertaining."
-Parade

"Exhilaratingly ambitious and entertaining…[A] vivid portrait of the clash and jangle and excitement of modern-day Mumbai."
-BookPage

"An irresistible story that you simply cannot keep out of your head...It is, more than anything else, literary magic."
-Christian Science Monitor

"Dazzling…Chandra's sure-handed writing injects the novel with layers of depth and meaning."
-Sunday Oregonian

"Lavish, accomplished, and…elegant…[SACRED GAMES] offers Western readers a panoramic view of contemporary India."
-Tennessean

"Superb…complex, mesmerizing...a full-immersion experience, as if Dickens had written THE GODFATHER and placed it in India."
-Grand Rapids Press

"Exquisite...A passionate tribute to contemporary India."
-Salon.com

"A remarkable blend of literary novel and potboiler."
-San Antonio Express-News

"Rich...Utterly convincing..A monumental portrait of interwoven lives that lingers with a reader long after the case is closed."
-Globe and Mail (Toronto)

"Riveting...A splendidly big, finely made book destined to dazzle a big audience."
-Booklist (starred review)

"Masterfully crafted fiction…the resonance and elegance...of his writing…put across the full vulnerability and humanity of his characters."
-Blogcritics.org Books

"A classical Bombay underworld epic...Raymond Chandler with songs."
-ABC magazine

"Unstinting in its ambition...flourishing in its characters…[An] intriguing act of literary decolonization…Sacred Games is cinematic in scope."
-Newsweek International Edition