The Sharing Knife Volume One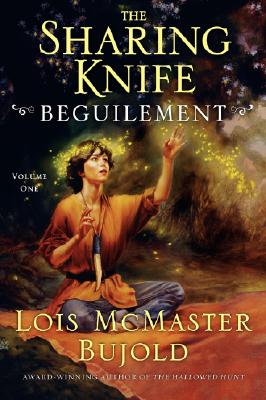 The Sharing Knife Volume One
Beguilement
Harper Voyager, Hardcover, 9780061137587, 368pp.
Publication Date: October 1, 2006
* Individual store prices may vary.
Not Currently Available for Direct Purchase
or
Shop Local
Enter your zip code below to purchase from an indie close to you.
Description
Young Fawn Bluefield has fled her family's farm hop-ing to find work in the city of Glassforge. Uncertain about her future and the troubles she carries, Fawn stops for a drink of water at a roadside inn, where she encounters a patrol of Lakewalkers, enigmatic soldier-sorcerers from the woodland culture to the north. Fawn knows the stories about the Lake-walkers: they are necromancers; they practice black sorcery; they have no permanent homes and own only the clothes they wear and the weapons—mysterious knives made of human bone—they carry. What she does not know is that the Lakewalkers, as a whole, are engaged in a perilous campaign against inhuman and immortal magical entities known as "malices," creatures that suck the life out of all they encounter, and turn men and animals into their minions.
Dag is an older Lakewalker patroller who carries his past sorrows as heavily as his present respon-sibilities. When Fawn is kidnapped by the malice Dag's patrol is tracking, Dag races to rescue her. But in the ensuing struggle, it is not Dag but Fawn who kills the creature—at dire cost—and an uncanny accident befalls Dag's sharing knife, which unex-pectedly binds their two fates together.
And so now the misenchanted knife must be returned to the Lakewalkers. Together, Fawn and Dag set out on the long road back to his camp. But on the journey this unlikely pair will encounter danger and delight, prejudice and partnership, and maybe even love. . . .
About the Author
One of the most respected writers in the field of speculative fiction, Lois McMaster Bujold burst onto the scene in 1986 with Shards of Honor, the first of her tremendously popular Vorkosigan Saga novels. She has received numerous accolades and prizes, including two Nebula Awards for best novel (Falling Free and Paladin of Souls), four Hugo Awards for Best Novel (Paladin of Souls, The Vor Game, Barrayar, and Mirror Dance), as well as the Hugo and Nebula Awards for her novella The Mountains of Mourning. Her work has been translated into twenty-one languages. The mother of two, Bujold lives in Minneapolis, Minnesota.
Praise For The Sharing Knife Volume One…
"A quiet, beguiling and transcendent tale of love, mystery and magic...The main characters are...complex and beautifully written."
-Romantic Times BOOKclub