Pale Demon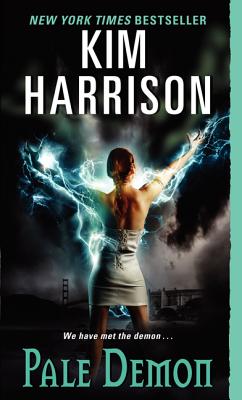 Pale Demon
Voyager, Mass Market Paperbound, 9780061138072, 512pp.
Publication Date: November 29, 2011
* Individual store prices may vary.
Buy at Local Store
Enter your zip code below to purchase from an indie close to you.
or
Buy Here
Description
Condemned and shunned for black magic, Rachel Morgan has three days to get tothe annual witches' conference and clearher name, or be trapped in the demonicever-after . . . forever after.
But a witch, an elf, a living vampire, anda pixy in one car going across the country?Talk about a recipe for certain disaster, evenwithout being the targets for assassination.
For after centuries of torment, a fearsomedemon walks in the sunlight--freed at lastto slay the innocent and devour their souls.But his ultimate goal is Rachel Morgan, andin the fight for survival that follows, evenembracing her own demonic nature maynot be enough to save her.
About the Author
New York Times bestselling author Kim Harrison was born and raised in the upper Midwest. Her bestselling Hollows novels include Dead Witch Walking; The Good, the Bad, and the Undead; Every Which Way But Dead; A Fistful of Charms; For a Few Demons More; The Outlaw Demon Wails; White Witch, Black Curse; Black Magic Sanction; Pale Demon, A Perfect Blood, Ever After, and The Undead Pool, plus the short story collection Into the Woods, The Hollows Insider and graphic novels Blood Work and Blood Crime. She also writes the Madison Avery series for young adults.
Praise For Pale Demon…
"Elegant and taut as a gymnast's cartwheel, Harrison's polished prose drives a story that will have readers swerving in their seats every time Rachel turns the wheel."
-Publishers Weekly (starred review)

"With more than 2.5 million "Hollows" books in print, Harrison has definitely tapped a nerve — or a magical ley line."
-San Antonio Express-News on Pale Demon

"An excellent entry that is guaranteed. … The Rachel Morgan series is fast becoming one of the hottest tickets in the urban-fantasy subgenre."
-Booklist (starred review)

"You'll love this bounty-hunter team. . . . A fun-fair ride through a fascinating version of our world."
-Charlaine Harris on Dead Witch Walking

"Blends the best qualities of Anita Blake and Stephanie Plum. . . . Kim Harrison carries it off with style."
-Jim Butcher on Dead Witch Walking

"Dead Witch Walking is a wonderfully fun romp through the supernatural world, a spellbinding blend of sharp wit and vivid imagination that left me eagerly awaiting the sequel."
-Kelley Armstrong on Dead Witch Walking