The Intimate Lives of the Founding Fathers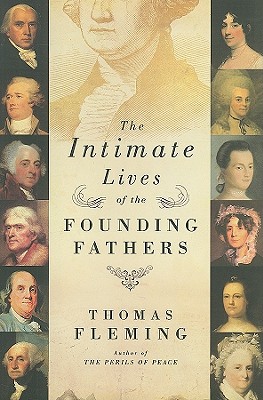 The Intimate Lives of the Founding Fathers
Smithsonian Books (DC), Hardcover, 9780061139123, 456pp.
Publication Date: November 3, 2009
* Individual store prices may vary.
Not Currently Available for Direct Purchase
or
Shop Local
Enter your zip code below to purchase from an indie close to you.
Description
A compelling, intimate look at the founders—George Washington, Ben Franklin, John Adams, Thomas Jefferson, Alexander Hamilton, and James Madison—and the women who played essential roles in their lives
With his usual storytelling flair and unparalleled research, Tom Fleming examines the women who were at the center of the lives of the founding fathers. From hot-tempered Mary Ball Washington to promiscuous Rachel Lavien Hamilton, the founding fathers' mothers powerfully shaped their sons' visions of domestic life. But lovers and wives played more critical roles as friends and often partners in fame. We learn of the youthful Washington's tortured love for the coquettish Sarah Fairfax, wife of his close friend; of Franklin's two "wives," one in London and one in Philadelphia; of Adams's long absences, which required a lonely, deeply unhappy Abigail to keep home and family together for years on end; of Hamilton's adulterous betrayal of his wife and then their reconciliation; of how the brilliant Madison was jilted by a flirtatious fifteen-year-old and went on to marry the effervescent Dolley, who helped make this shy man into a popular president. Jefferson's controversial relationship to Sally Hemings is also examined, with a different vision of where his heart lay.
Fleming nimbly takes us through a great deal of early American history, as his founding fathers strove to reconcile the private and public, often beset by a media every bit as gossip seeking and inflammatory as ours today. He offers a powerful look at the challenges women faced in the late eighteenth and early nineteenth centuries. While often brilliant and articulate, the wives of the founding fathers all struggled with the distractions and dangers of frequent childbearing and searing anxiety about infant mortality—Jefferson's wife, Martha, died from complications following labor, as did his daughter. All the more remarkable, then, that these women loomed so large in the lives of their husbands—and, in some cases, their country.
About the Author
Thomas Fleming is the author of more than 40 books of fiction and history. He was born in Jersey City, N.J., the son of a powerful local politician, who gave him a lifelong interest in politics and history. He is the only writer in the seventy year history of the Book of the Month Club to win main selections in both fiction and nonfiction. His 1981 novel, "The Officers' Wives, won international acclaim, selling more than 2,000,000 copies." Liberty! The American Revolution was listed as one of the eight best books of 1997 by the History Book Club.
Fleming has made the Revolution his special field.
Three of his books have won best-book-of-the-year citations from the American Revolution Round Table of New York. He has also demonstrated a sweeping grasp of the entire course of American history in West Point: "The Men and Times of the U.S. Military Academy, The New Dealers' War and other books. Fleming is a senior scholar on the board of the National Center for the American Revolution. He is also a fellow of the Society of American Historians. He often appears as a commentator on PBS, the History Channel and A&E. He lives in New York.

Praise For The Intimate Lives of the Founding Fathers…
"Thomas Fleming is one of our most interesting scholars of the Revolutionary period, and in his insightful latest work he does not disappoint. Focusing on the wives and women of the founding fathers, Intimate Lives is thoroughly fresh, frequently fun, at times touching, and always fascinating. A significant achievement."
-Jay Winik, author of The Great Upheaval and April 1865

"With his ample gifts as a novelist and his brilliant historical reach, the esteemed Thomas Fleming never disappoints...A remarkable achievement-- and hard to put down."
-Brenda Wineapple, author of WHITE HEAT: THE FRIENDSHIP OF EMILY DICKINSON AND THOMAS WENTWORTH HIGGINSON

"Tom Fleming is a rare combination - a fine historian and a fine writer. His assessment of George Washington's relationships with Sally Fairfax and Martha Custis is right on target."
-Peter R. Henriques, author of REALISTIC VISIONARY: A PORTRAIT OF GEORGE WASHINGTON

This is better than any history book you've ever read.
-Curled Up with a Good Book