Horns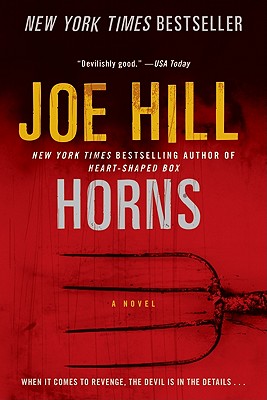 Horns
Harper Paperbacks, Paperback, 9780061147968, 397pp.
Publication Date: March 8, 2011
* Individual store prices may vary.
Buy at Local Store
Enter your zip code below to purchase from an indie close to you.
or
Buy Here
Description
Joe Hill's critically acclaimed, New York Times bestselling, Bram Stoker Award-winning debut chiller, Heart-Shaped Box, heralded the arrival of new royalty onto the dark fantasy scene. With Horns, he polishes his well-deserved crown. A twisted, terrifying new novel of psychological and supernatural suspense, Horns is a devilishly original triumph for the Ray Bradbury Fellowship recipient whose story collection, 20th Century Ghosts, was also honored with a Bram Stoker Award--and whose emotionally powerful and macabre work has been praised by the New York Times as, "wild, mesmerizing, perversely witty...a Valentine from hell."
Praise For Horns…
"[A] compulsively readable supernatural thriller...Hill spins a story that's both morbidly amusing and emotionally resonant. The explanations for Ig's weird travails won't satisfy every reader, but few will dispute that Hill has negotiated the sophomore slump."
-Publishers Weekly

"Horns is a well wrought tale with intellectual merit. Not only are we entertained, we are challenged to think as well."
-New York Journal of Books

"On the strength of two masterly thrillers—2007's Heart Shaped-Box and his newest Horns—Hill has emerged as one of America's finest horror writers."
-Time magazine

"HORNS should bring even more fans to Joe Hill . . . he has his own style, and it is very accessible as well as fast-moving. . . . HORNS is a fast-paced, fascinating murder mystery/love story with a dash of the devil himself to spice things up."
-DreadCentral.com [horror entertainment review website]

"[Horns is] devilishly good. . . . Hill is a terrific writer with a great imagination. He has a special talent for taking us and his characters to very weird places."
-USA Today

"Hill's survey of the question of suffering is a wild ride, as filled with thrills as his hero's headlong plunge down to a dark and dazzling river."
-Seattle Times

"The wise guys point out that the literature of horror fantasy tends to be both romantic and conservative. Normalcy is idealized and so precious that its violation is the essence of horror. Joe Hill's sweet, fanged demonology takes us there."
-Oregonian

"Horns is thoroughly enjoyable and often original.…a richly nuanced story. Fire and brimstone have rarely looked this good. "
-Los Angeles Times

"A devilish, ingeniously designed story that positions Hill in the same realm as Neil Gaiman, Jonathan Lethem, and Stephen King."
-Pittsburgh Tribune

"Horns is a pitchfork-packing, prodigal son's take on religion…But the real meat of the story dissects man's relationship with good and evil wihtout sacrificing a bit of suspense…Horns is a mesmerizing page-turner."
-Tulsa World

"Brilliant in conception...HORNS is a rollercoaster of a work filled with thrills and chills."
-Bookreporter.com

"Hill's one incredibly talented writer with a wicked sense of humor and a master's control of pacing."
-Bookgasm.com

"No one working in horror today is more adept than Hill …His writing is both merciless and compassionate, driving hard toward the painful truth in every story while holding fast to the desires of his protagonist. "
-Seattle Post-Intelligencer

""Darkly comic in places, touching in others, chilling on occassion…"
-Valdosta Daily Times

"[D]evilishly good…Hill is a terrificwriter with a greatimagination. He has a special talent for taking us and his characters to very weird places."
-Wilmington News Journal

"Fire and brimstone have rarely looked so good."
-Orlando Sentinel

"Horns is not only scary but it's also insightful, often funny and sometimes sweetl romantic."
-St. Paul Pioneer Press

"[A] fresh, tough-minded take on what it means to make a deal with the devil and your own worst nature."
-San Francisco Chronicle

"Fast-paced, well-made, and wonderfully weird."
-The Globe and Mail

"This is masterful allegory as Hill proves himself…to be a compelling chronicler of human natures continual war between good and evil."
-Providence Journal-Bulletin

"a tight and well-plotted murder mystery, as well as a thoughtful meditation on good and evil....[HORNS] establishes Hill as one of the most clever and talented writers working in the genre."
-Charleston Post & Courier

"As the plot builds through flashbacks and clever exposition, Ig's true nature reveals itself, and the reader is left questioning the traditional border between good and evil....Highly recommended, particularly for fans of Clive Barker and Christopher Moore."
-Library Journal

"A satisfying and entertaining book."
-www.npr.org on HORNS

"[HORNS is] a creepy murder mystery, a tragic love triangle, and a sweetly wistful coming-of-age story. It's the kind of book that has you laughing on one page, crying on another and making sure the doors and windows are safely locked on a third."
-Miami Herald

"Horns is dark, twisted, even sometimes funny in a macabre way."
-Connie Ogle, "Between the Covers," The Miami Herald