The Known World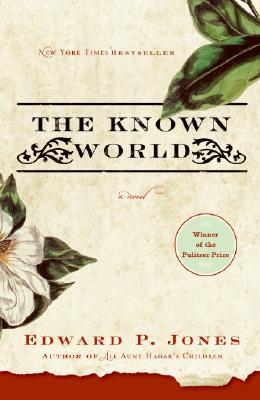 The Known World
Amistad Press, Paperback, 9780061159176, 388pp.
Publication Date: August 29, 2006
* Individual store prices may vary.
Buy at Local Store
Enter your zip code below to purchase from an indie close to you.
or
Buy Here
Description
One of the most acclaimed novels in recent memory, The Known World is a daring and ambitious work by Pulitzer Prize winner Edward P. Jones.
The Known World tells the story of Henry Townsend, a black farmer and former slave who falls under the tutelage of William Robbins, the most powerful man in Manchester County, Virginia. Making certain he never circumvents the law, Townsend runs his affairs with unusual discipline. But when death takes him unexpectedly, his widow, Caldonia, can't uphold the estate's order, and chaos ensues. Jones has woven a footnote of history into an epic that takes an unflinching look at slavery in all its moral complexities.
Praise For The Known World…
"A masterpiece that deserves a place in the American literary canon."
-Time

"Breathtaking....A fascinating counterweight to Toni Morrison's Beloved....It is essential reading."
-Entertainment Weekly

" An exemplar of historical fiction. . . [it] will subdue your preconceptions, enrich your perceptions and trouble your sleep.. . .The way Jones tells this story. . .recalls Cormac McCarthy, William Faulkner and Gabriel Garcia Marquez."
-Newsday

" An exemplar of historical fiction. . . [it] will subdue your preconceptions, enrich your perceptions and trouble your sleep.. . .The way Jones tells this story. . .recalls Cormac McCarthy, William Faulkner and Gabriel Garcia Marquez."
-Starred Library Journal

"Astonishingly rich. . .The particulars and consequences of the 'right' of humans to own other humans are dramatized with unprecedented ingenuity and intensity, in a harrowing tale that scarcely ever raises its voice. . . . It should be a major prize contender."
-Kirkus Reviews (starred)

"A stunning debut novel."
-Atlanta Journal-Constitution

"Fascinating...poignant....[A] complex and fine novel."
-Baltimore Sun

"A strong, intricate, daring book by a writer of deep compassion and uncommon gifts."
-Peter Matthiessen

"Stunning....His first novel is...likely to win acclaim."
-New York Times

"If Jones. . .keeps up this level of work, he'll equal the best fiction Toni Morrison has written about being black in America."
-Speakeasy

"One of those rare works of fiction that both wound and heal."
-O Magazine

"'The Known World' is a great novel, one that may eventually be placed with the best of American Literature."
-San Diego Union-Tribune

"Heartbreaking....fascinating."
-Newsweek

"Brilliant....Glorious....[The Known World] belongs on the shelf with other classics of slavery, like Toni Morrison's "Beloved."
-Atlanta Journal-Constitution

"Fascinating . . .There is grief and fear, genuine affection an envy in this complex and fine novel."
-Philadelphia Inquirer

"A major achievement."
-Time Out New York

"Extraordinary.....Nothing...quite prepares readers for the imaginative leaps and technical prowess of 'The Known World.'"
-Seattle Times

"A profoundly beautiful and insightful look at American slavery and human nature."
-Booklist (starred)

"Vivid....[An] epic novel."
-Book Magazine

"Beautifully written . . .[it] ought to enjoy the massive readership that Charles Frazier's runaway hit, Cold Mountain did."
-USA Today

"Brilliant...Jones' novel movingly evokes one small landscape of a larger map that so stubbornly yields up its truths today"
-St. Louis Post-Dispatch

"Stunning....Pitch-perfect....Too much cannot be said about Mr. Jones gifts as a storyteller and a stylist."
-The Washington Times

"Once you start the book you are hooked....Consider this novel necessary reading."
-Fort Worth Star-Telegram

"This...magical novel will touch you in a profound way."
-People (4-Starred Critic's Choice)

"Complex, beautifully written, and breathtaking...the book will knock the wind out of you with the depth of its compassion."
-QBR: The Black Book Review

"Heartrending....[The Known World] walks with the pace and solemnity of the Bible."
-Dallas Morning News

"[A] powerful, multigenerational saga."
-Chicago Tribune Books

"Jones has written a book of tremendous moral intricacy."
-The New Yorker

"An incredible saga."
-Essence

"Destined for a permanent spot on the...shelf of great American novels about slavery, next to Morrison...and Faulkner."
-Boston Globe

"A grand and inspired work of historical fiction. . .[It] deserves every word of praise that comes its way."
-Chicago Tribune Books

"A masterpiece that deserves a place in the American literary canon."
-Time magazine