The Last Trials of Clarence Darrow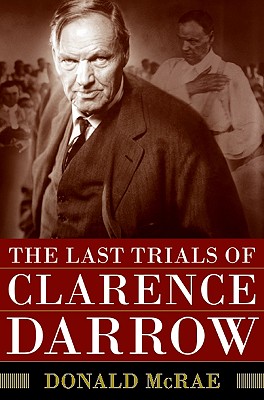 The Last Trials of Clarence Darrow
William Morrow & Company, Hardcover, 9780061161490, 422pp.
Publication Date: June 1, 2009
* Individual store prices may vary.
Not Currently Available for Direct Purchase
or
Shop Local
Enter your zip code below to purchase from an indie close to you.
Description
The courtroom has been a dramatic setting for larger-than-life figures throughout history, but few have attained the almost mythical status of Clarence Darrow. A legend in his own time, Variety called him "America's greatest one-man stage draw." Here was a man whose flair for showmanship went hand in hand with a fierce intellect; a man whose shaky moral compass and staggering conceit collided at all turns with an unrivaled eloquence and an overwhelming compassion for humanity.
Darrow had been one of the most revered lawyers in the country, but in 1924 his reputation was still clouded after a narrow escape from a charge of jury tampering in Los Angeles. At the age of sixty-seven he thought his life and career were almost over, until he was offered an impossible assignmentthe defense of the teenage "thrill killers" Nathan Leopold and Richard Loeb. Darrow then went on to earn even more international acclaim in two other groundbreaking cases: a classic standoff against William Jennings Bryan in the Scopes Monkey Trial in Tennessee, and the Ossian Sweet murder trial in Detroit. Throughout two crammed and dizzying years, this lion of the court held the Western world in awe as he tackled these three starkly different, history-making cases, each in turn dubbed "the Trial of the Century."
But these trials, as important as they were to Darrow, were not the only events that helped rejuvenate him and seal his courtroom legacy. There was also his enduring relationship with Mary Field Parton, his lover and soul mate, a woman whose role toward the end of his career was larger than many have realized. With fascinating new research and discoveries, including her private journals and letters, The Last Trials of Clarence Darrow is an intimate and riveting depiction of this American icon, one of the greatest lawyers this country has ever seen.
About the Author
Donald McRae is the acclaimed author of five nonfiction books, including Every Second Counts: The Race to Transplant the First Human Heart and Heroes Without a Country: America's Betrayal of Joe Louis and Jesse Owens. He is the only writer to have won the William Hill UK Sports Book of the Year Award twice. In 2005 he was named Feature Writer of the Year for his work in The Guardian. McRae lives near London with his family.