The Black Tower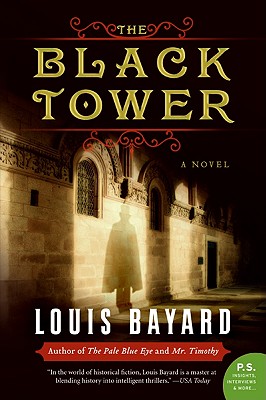 The Black Tower
Harper Perennial, Paperback, 9780061173516, 352pp.
Publication Date: October 13, 2009
* Individual store prices may vary.
Buy at Local Store
Enter your zip code below to purchase from an indie close to you.
or
Buy Here
Description
From Louis Bayard, the acclaimed author of Mr. Timothy and The Pale Blue Eye, comes The Black Tower, a stunning and pitch-perfect novel featuring the real-life criminal who transformed himself into the world's first and greatest detective. In The Black Tower, Bayard deftly interweaves political intrigue, epic treachery, cover-ups, and conspiracies into a gripping portrait of family redemption--and brings to life an indelible portrait of the mighty and profane Eugene Francois Vidocq, history's legendary investigator.
Praise For The Black Tower…
"Bayard is a fearlessly confident writer. We are treated to all of the narrative verve and sly wit—both plot twists and turns of phrase—that make his books such a pleasure to read."
-Washington Post

"Delicious. [Bayard] inbues(s) his characters with real soul. You may find yourself, more than two centuries after the fact, aching over the fate of the pitiful young Dauphin. A-"
-Entertainment Weekly

"Louis Bayard repairs to Paris for another daring historical adventure. Bayard makes brilliant application of Vidocq in the fanciful adventure. No snatch–and–run researcher, Bayard takes care to capture Vidocq's roguish voice and grandiose affectations."
-New York Times Book Review

"In the world of historical fiction, Louis Bayard is a master at blending history into intelligent thrillers."
-USA Today

"Louis Bayard finds fictional inspiration in historical fact. He has emerged as a writer of historical thrillers in the vein of Caleb Carr, author of The Alienist, and 19th century writers such as Alexandre Dumas, author of The Count of Monte Christo."
-Wall Street Journal

"A tale that has as much energy and cunning as the detective propelling it forward."
-Christian Science Monitor

"A compelling and sympathetic narrator instantly draws the reader into Bayard's stellar third historical. Bayard keeps the reader guessing until the end. Few writers today can match the author's skill in devising an intelligent thriller with heart."
-Publishers Weekly (starred review)

"Having previously channeled Dickens and Poe, historical novelist Bayard throws down the gauntlet to Dumas in another high-energy melodrama. The novel's witty succession of trapdoor endings, culminating in "the quietest of abdications," keeps surprising us. Who says they don't write 'em like this anymore? Long may Bayard reign."
-Kirkus Reviews (starred)

"In his fast-moving tale, Bayard deftly places details to make history come alive."
-Rocky Mountain News

"Bayard doesn't revisit the past so much as reinvent it, historically and literarily, with a great deal of style, wit and suspense. Dark, surprising and Bayard's best example so far of a lean and accessible historical thriller."
-Miami Herald

"In addition to the many fine, quirky character portraits and the visceral depiction of a chaotic France still reeling under the regime change, Bayard offers a rip-roaring plot full of smart and funny turns."
-Booklist (starred review)

"The Black Tower breathes life into the world's first police detective, Vidocq, a literary feat that happily waited for this novelist. As the gripping and nuanced story races through the parlor rooms and back alleys of Paris, Bayard shows why he is at the forefront of literary historical fiction today."
-Matthew Pearl, author of The Dante Club and The Poe Shadow

"A fascinating detective story about one of the world's most compelling mysteries. Bayard's scholarly and beautiful, heart-stopping prose always keeps before us the possibility of an improbability - what mystery is all about."
-Louisville Courier Journal

"Top-notch historical fiction. Bayard's is the kind of popular fiction readers are thrilled to discover: equal parts effective plotting, lean but distinctive prose and characters and dialogue that brim with life from the outset. A royally entertaining read."
-Creative Loafing