Jesus, Interrupted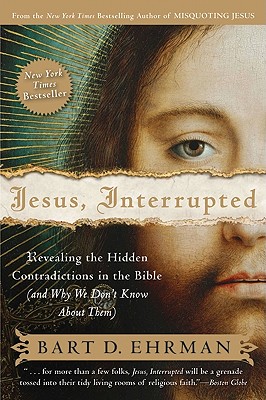 Jesus, Interrupted
Revealing the Hidden Contradictions in the Bible (and Why We Don't Know about Them)
HarperOne, Paperback, 9780061173943, 292pp.
Publication Date: February 2010
* Individual store prices may vary.
Buy Now
or
Shop Local
Enter your zip code below to purchase from an indie close to you.
Description
The Human Story Behind the Divine Book
In this New York Times bestseller, leading Bible expert Bart Ehrman skillfully demonstrates that the New Testament is riddled with contradictory views about who Jesus was and the significance of his life. Ehrman reveals that many of the books were written in the names of the apostles by Christians living decades later, and that central Christian doctrines were the inventions of still later theologians. Although this has been the standard and widespread view of scholars for two centuries, most people have never learned of it.
Jesus, Interrupted is a clear and compelling account of the central challenges we have when attempting to reconstruct the life and meaning of Jesus.
About the Author
Bart D. Ehrman is one of the most renowned and controversial Bible scholars in the world today. A master explainer of Christian history, texts, and traditions, his work continues to drive debate among supporters and detractors alike. Ehrman is the James A. Gray Distinguished Professor of Religious Studies at the University of North Carolina, Chapel Hill, and is the author of more than twenty books, including the New York Times bestselling Misquoting Jesus; God's Problem; Jesus, Interrupted; and Forged. Ehrman has appeared on Dateline NBC, The Daily Show with Jon Stewart, CNN, the History Channel, and top NPR programs, and he has been featured in Time, the New York Times, The New Yorker, The Washington Post, and more.
Praise For Jesus, Interrupted…
"Ehrman's ability to translate scholarship for a popular audience has made the James A. Gray Distinguished Professor and Chair of the Department of Religious Studies at the University of North Carolina at Chapel Hill a superstar in the publishing world"
-IndyWeek

"For both scholars and the masses who read about religion, Bart D. Ehrman needs no introduction . . . He adds the personal to the scholarly for some of his works, detailing how he went from a Moody Bible Institute-educated fundamentalist evangelical to an agnostic .
-Durham Herald-Sun

"There's something delicious (for nonbelievers, anyway) about the implacable, dispassionate way that Ehrman reveals how the supposedly "divine truth" of Christianity was historically constructed."
-Salon.com