What Is Your Dangerous Idea?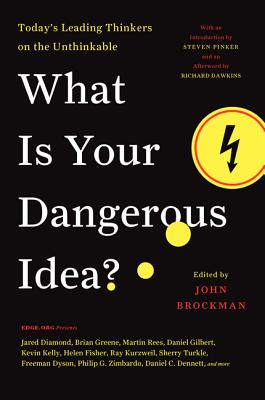 What Is Your Dangerous Idea?
Today's Leading Thinkers on the Unthinkable
Harper Perennial, Paperback, 9780061214950, 301pp.
Publication Date: July 29, 2014
* Individual store prices may vary.
Buy at Local Store
Enter your zip code below to purchase from an indie close to you.
or
Buy Here
Description
The world's leading scientific thinkers explore bold, remarkable, perilous ideas that could change our lives for better . . . or for worse . . .
From Copernicus to Darwin, to current-day thinkers, scientists have always promoted theories and unveiled discoveries that challenge everything society holds dear; ideas with both positive and dire consequences. Many thoughts that resonate today are dangerous not because they are assumed to be false, but because they might turn out to be true.
What do the world's leading scientists and thinkers consider to be their most dangerous idea? Through the leading online forum Edge (www.edge.org), the call went out, and this compelling and easily digestible volume collects the answers. From using medication to permanently alter our personalities to contemplating a universe in which we are utterly alone, to the idea that the universe might be fundamentally inexplicable, What Is Your Dangerous Idea? takes an unflinching look at the daring, breathtaking, sometimes terrifying thoughts that could forever alter our world and the way we live in it.
Contributors includeDaniel C. Dennett Jared Diamond Brian Greene Matt Ridley Howard Gardner and Freeman Dyson, among others.
About the Author
The publisher of the online science salon Edge.org, John Brockman is the editor of the national bestsellers This Idea Must Die, This Explains Everything, This Will Make You Smarter, and other volumes.

Richard Dawkins taught zoology at the University of California at Berkeley and at Oxford University and is now the Charles Simonyi Professor of the Public Understanding of Science at Oxford, a position he has held since 1995. Among his previous books are The Ancestor s Tale, The Selfish Gene, The Blind Watchmaker, Climbing Mount Improbable, Unweaving the Rainbow, and A Devil s Chaplain. Dawkins lives in Oxford with his wife, the actress and artist Lalla Ward.

One of Time magazine's "100 Most Influential People in the World Today," Steven Pinker is the author of seven books, including How the Mind Works and The Blank Slate both Pulitzer Prize finalists and winners of the William James Book Award. He is an award-winning researcher and teacher, and a frequent contributor to Time and the New York Times.