The Storm of War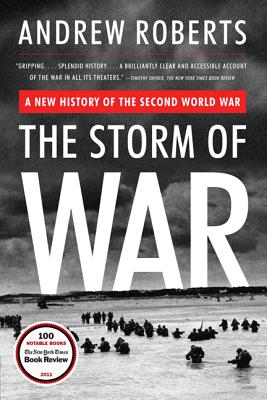 The Storm of War
A New History of the Second World War
Harper Perennial, Paperback, 9780061228605, 800pp.
Publication Date: May 29, 2012
* Individual store prices may vary.
Buy at Local Store
Enter your zip code below to purchase from an indie close to you.
or
Buy Here
Description
"Roberts'spopulist approach makes for a rollicking good read and never comes at theexpense of accuracy. His mastery of the huge variety of subjects is trulyimpressive and his ability to marshal these subjects into a single compellingnarrative stunning." The Daily Telegraph
Hailedby The Economist as Britain's finest military historian forbestsellers such as Masters and Commanders and Waterloo, AndrewRoberts offers a magisterial new history of World War II and the Axis strategythat led the Germans and Japanese to their eventual defeat. Perfect for readershoping to gain new insight into WWII's pivotal battles and campaigns, fromDunkirk to D-Day, The Storm of War is a powerful, penetrating, andcompulsively readable examination of the causes, currents, and consequences ofthe Second World War.
Praise For The Storm of War…
"Gripping. . . . splendid history. A brilliantly clear and accessible account of the war in all its theaters. Roberts's prose is unerringly precise and strikingly vivid. It is hard to imagine a better-told military history of World War II."
-Timothy Snyder, The New York Times Book Review

"Elegantly balances fact, thought and fresh, clear prose. . . . Roberts has set a high bar for future historians of mankind's greatest bloodbath; Roberts splendidly weaves a human tragedy into a story of war's remorseless statistics."
-The Wall Street Journal

"With his new book on the Second World War, British historian Andrew Roberts has not only written the single best history of that conflict but has also claimed his place as one of our top historians."
-Michael Korda, The Daily Beast

"A magnificent book;It manages to be distinctive but not eccentric, comprehensive in scope but not cramped by detail, giving due weight both to the extraordinary personalities and to the blind economic and physical forces involved."
-The Economist

"Roberts's narrative gifts are such that it is almost impossible to read his retelling of these nightmares without some feeling of encountering the new. No history book can ever truly be definitive, but this comes close. Roberts never loses sight of the human side of this epic."
-National Review

"Roberts is a great historian because of a rare triune mastery: of the movement of history, in both its broad sweep and particular revelatory detail; a felicitous prose style and gift for narrative; and a commanding moral vision."
-Roger Kimball, The Daily

"Andrew Roberts achieves a marvel of concision in producing a splendidly written, comprehensive new history of the greatest conflict in history, The Storm of War—particularly good in its insights into Axis strategy."
-Sir Ian Kershaw, The Guardian, Books of the Year

"In what might be his best book yet, Roberts gives us the war as seen from the other side of the hill. He has the knack of making complex military operations comprehensible and salting the grand strategic sweep with vignettes of how it felt to be a soldier."
-Nigel Jones, The Sunday Telegraph

"Roberts is a first-rate historian. He has a sharp eye for a good subject and a knack of getting to its heart. The second world war, which cost more than 50 million lives, has a perennial fascination that Roberts conveys through an admirably lucid narrative."
-Piers Brendon, The Sunday Times

"In one irresistibly readable book, Roberts has done what I thought was impossible--given us the whole bloody second world war from the brass buttons of the generals down to the mud-filled trenches and stretching across the globe."
-Tina Brown, Newsweek

"The best full history of World War II yet written."
-Simon Sebag Montefiore, The Wall Street Journal