The Shadow Year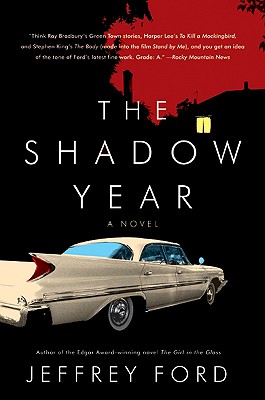 The Shadow Year
Harper Perennial, Paperback, 9780061231537, 289pp.
Publication Date: March 17, 2009
* Individual store prices may vary.
Buy Now
or
Shop Local
Enter your zip code below to purchase from an indie close to you.
Description
On New York's Long Island, in the unpredictable decade of the 1960s, a young boy spends much of his free time in the basement of his family's modest home, where he and his brother, Jim, have created Botch Town, a detailed cardboard replica of their community, complete with figurines representing friends and neighbors. Their little sister, Mary, smokes cigarettes, speaks in other voices, inhabits alternate personas . . . and, unbeknownst to her siblings, moves around the inanimate clay residents.
There is a strangeness in the air as disappearances, deaths, spectral sightings, and the arrival of a sinister man in a long white car mark this unforgettable shadow year. But strangest of all is the inescapable fact that all these troubling occurrences directly cor-respond to the changes little Mary has made to the miniature town in their basement.
About the Author
Jeffrey Ford is the author of three previous story collections and eight previous novels, including the Edgar(r) Award-winning The Girl in the Glass and the Shirley Jackson Award-winning The Shadow Year. A former professor of writing and early American literature, Ford now writes full-time in Ohio, where he lives with his wife.
Praise For The Shadow Year…
"Jeffrey Ford is one of the few writers who uses wonder instead of ink in his pen."
-Jonathan Carroll, author of The Wooden Sea

"Properly creepy, but from time to time deliciously funny and heart-breakingly poignant, too. For those of you—and you know who you are—who think the indispensable element for good genre fiction is good writing, this is not to be missed."
-Kirkus Review, Starred

"Surreal, unsettling, and more than a little weird. Ford has a rare gift for evoking mood with just a few well-chosen words and for creating living, breathing characters with only a few lines of dialogue."
-Booklist

"Superb, heartbreaking, and masterfully written . . . It's proof of Jeffrey Ford's narrative power that, ultimately, the distinction [between real and invented] doesn't much matter. His made-up world trumps ours."
-Magazine of Fantasy and Science Fiction

"The Shadow Year captures the totality of a lived period, its actualities and its dreams, its mundane essentials and its odd subjective imperatives; it is a work of episodic beauty and mercurial significance."
-Nick Gevers, Locus

"Properly creepy, but from time to time deliciously funny and heart-breakingly poignant, too."
-Kirkus Reviews (starred review)

"Think Ray Bradbury's Green Town stories, Harper Lee's To Kill a Mockingbird and Stephen King's The Body (made into the film Stand by Me) and you get an idea of the tone of Ford's latest fine work. Grade: A"
-Rocky Mountain News

"Children are the original magic realists. The effects that novelists of a postmodern bent must strive for come naturally to the young, a truth given inventive realization in this wonderful quasi-mystery tale by Jeffrey Ford."
-Boston Globe on THE SHADOW YEAR

"We should be grateful that alongside the firm of Updike, Cheever, Ford & Company there exists, in both fiction and film, an American tradition that depicts the suburbs as places of wonder rather than stultification, discovery rather than predictability."
-New York Newsday

"Jeffrey Ford's latest triumph, THE SHADOW YEAR, is as haunting as it is humorous…readers will recognize real talent in Ford's vivid, unerring voice."
-Louisville Courier Journal on THE SHADOW YEAR