Bloody Crimes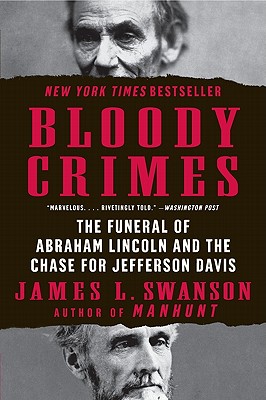 Bloody Crimes
The Funeral of Abraham Lincoln and the Chase for Jefferson Davis
Harper Perennial, Paperback, 9780061233791, 464pp.
Publication Date: August 16, 2011
* Individual store prices may vary.
Buy Now
or
Shop Local
Enter your zip code below to purchase from an indie close to you.
Description
In Bloody Crimes, James L. Swanson the Edgar(r) Award-winning, New York Times bestselling author of Manhunt brings to life two epic events of the Civil War era: the thrilling chase to apprehend Confederate president Jefferson Davis in the wake of the Lincoln assassination and the momentous20-day funeral that took Abraham Lincoln's body home to Springfield. A true tale full of fascinating twists and turns, and lavishly illustrated with dozens of rare historical images some never before seen Bloody Crimes is a fascinating companion to Swanson's Manhunt anda riveting true-crime thriller that will electrify civil war buffs, generalreaders, and everyone in between.
About the Author
James Swanson is the Edgar Award-winning author of the New York Times bestsellers Manhunt and its sequel, Bloody Crimes.
Praise For Bloody Crimes…
"With the publication of Bloody Crimes, James L. Swanson emerges as one of America's greatest historians. Swanson recounts the closing drama of the Civil War with hair-raising precision and the vivid narrative drive of a top-tier novelist. A grand tour de force!"
-Douglas Brinkley, author of The Wilderness Warrior: Theodore Roosevelt and the Crusade for America

"Striking ....Full of vigorous prose and dynamic stories about the period immediately following the end of the Civil War."
-Kirkus Reviews

"A haunting masterpiece. James Swanson has written a thrilling book of death and longing, of defeat and resurrection."
-Harlan Coben, #1 New York Times bestselling author of Caught and Tell No One

"A brilliant narrative that keeps the reader spellbound from beginning to end. James Swanson's vivid style and historical accuracy are unsurpassed, and he makes the parallel journeys of Abraham Lincoln and Jefferson Davis come magically alive. I wish I had written this book."
-Edward Steers, Jr., author of Blood on the Moon: The Assassination of Abraham Lincoln and The Lincoln Assassination Encyclopedia

"James Swanson is a giant. With his instant classic Manhunt, and its triumphant follow up Bloody Crimes, Swanson proves beyond all doubt that he is a master of historical true-crime epic.....Bloody Crimes is irresistibly captivating. I highly recommend it."
-Vincent Bugliosi, Edgar award-winning author of Helter Skelter and Reclaiming History: The Assassination of President John F. Kennedy

"James Swanson has done it again. Bloody Crimes is a moving, evocative trip back in time to the tumultuous spring of 1865. Swanson's meticulous research and sparkling prose make it an essential companion to his award winning bestseller, Manhunt."
-Michael Burlingame, author of Abraham Lincoln: A Life