Dr. Carbles Is Losing His Marbles!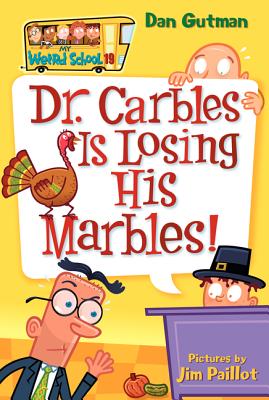 Dr. Carbles Is Losing His Marbles!
HarperTrophy, Paperback, 9780061234774, 99pp.
Publication Date: August 2007
* Individual store prices may vary.
Shop Local
Enter your zip code below to find indies closest to you.
Description
Something weird is going on
It's Thanksgiving A.J. is thankful for four days off from school. But he's not thankful for Dr. Carbles, who is grumpier than ever. Dr. Carbles even fires Mr. Klutz Will A.J. and his friends be able to save their principal's job?
About the Author
Dan Gutman has always been a baseball fanatic. He played in Little League as a kid, and one of the first magazine articles he ever sold explained the science behind the spitball, the scuffball, and corked bats. When he thought about the T206 Honus Wagner the most valuable baseball card in the world he began to write honus & me, his first Baseball Card Adventure.
Dan is also the author of the New York Times bestselling Genius Files series, as well as the internationally bestselling My Weird School series.
Jim Paillot lives in Arizona (another weird place) with his weird wife and two weird children. Isn't that weird?