America's Medicis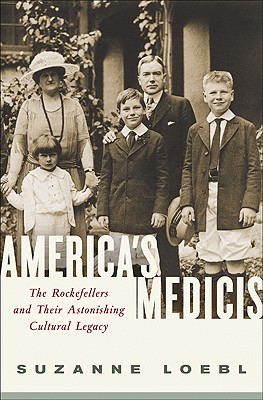 America's Medicis
The Rockefellers and Their Astonishing Cultural Legacy
HarperTorch, Hardcover, 9780061237225, 429pp.
Publication Date: November 16, 2010
* Individual store prices may vary.
Buy Now
or
Shop Local
Enter your zip code below to purchase from an indie close to you.
Description
The first book to explore the immense cultural contributions of one of America's wealthiest and most influential families: the Rockefellers.
Abby Aldrich Rockefeller sparked her family's passion for art, but it was her husband, John D. Rockefeller Jr., who once was hailed as the "greatest friend and patron of the arts since Florence's Lorenzo de Medici." Together and separately they, as well as their descendents, became a major force on the American art scene. The dozen Rockefeller-sponsored museums, including MoMA and the Cloisters, are among the world's finest. Their architectural projectsRockefeller Center, the restoration of Colonial Williamsburg, Lincoln Centerare equally stellar. The family also enriched existing institutions with entire collections of modern, Asian, "primitive," and folk art, in addition to ancient artifacts.
Based on a wealth of information culled from the family's extensive archives, America's Medicis traces the Rockefellers' artistic philanthropies from their beginnings to the present. As author Suzanne Loebl makes clear, the Rockefellers did more than simply provide money and artworks; they also devoted themselves to the causes they believed ina commitment that helped define and direct America's artistic tastes. In spite of all these material gifts, the Rockefellers' most lasting contribution was to teach America that art does not belong to a rarefied elite, but can be enjoyed and understood by all. Erudite and engaging, America's Medicis is a remarkable account of the twentieth-century American art world and the extraordinary family at its center.
About the Author
Suzanne Loebl is the author of fourteen books, most recently "America's Art Museums". She lives in Brooklyn.