The Nightmare Factory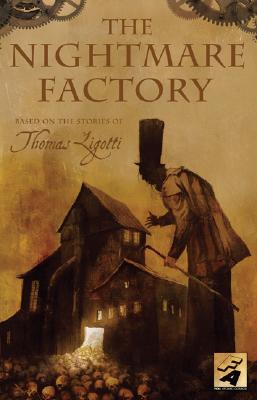 The Nightmare Factory
Harper Paperbacks, Paperback, 9780061243530, 112pp.
Publication Date: September 4, 2007
* Individual store prices may vary.
Buy at Local Store
Enter your zip code below to purchase from an indie close to you.
or
Not Currently Available for Direct Purchase
Description
"A fractured mind is often the way into a world not suspected by those of an innocent normality."
Enter the universe of renowned horror master Thomas Ligotti—a universe where clowns take part in a sinister winter festival, a scheming girlfriend makes reality itself come unraveled, a crumbling asylum's destruction unleashes a greater horror, and a mysterious Teatro comes and goes, leaving only shattered dreams in its wake.
In the tradition of Edgar Allan Poe and H. P. Lovecraft, Ligotti's sophisticated tales of terror take us to places few would suspect exist, where madness is only a thought away. The Nightmare Factory adapts four of Ligotti's most chilling tales into fine graphic literature by famed writers and artists Stuart Moore, Joe Harris, Colleen Doran (The Sandman), Ben Templesmith (30 Days of Night), Ted McKeever (Batman), and Michael Gaydos (Alias). Featuring all-new introductions to each story by Thomas Ligotti.
About the Author
Thomas Ligotti's first collection of stories, Songs of a Dead Dreamer, was published in 1986. Other collections include Grimscribe (1991) and Noctuary (1994). Ligotti is the recipient of several awards, including the Horror Writers' Association Bram Stoker award for his omnibus collection The Nightmare Factory (1996) and short novel My Work Is Not Yet Done (2002). A short film of Ligotti's story The Frolic was completed in 2006 and is scheduled for DVD release. For more information visit: www.ligotti.net.
Praise For The Nightmare Factory…
"Moody art and ominous pacing create an air of creeping mystery that suits Ligotti's macabre tales."
-Washington Post

"Provides a bitterly entertaining treat for those attuned to its storyteller's grim sentiments."
-Boston Globe

Top 12 Graphic Novels of the Year recipient
-Bookslut.com

"Each story is original and toys in macabre fashion with our nerves. Classy, evocative artwork, too."
-San Jose Mercury News

"Templesmith's art posses the power to spread fear all by itself...and Doran, McKeever, and Gaydos do a splendid job."
-Comics Buyer's Guide

"The Nightmare Factory lives up to its title, cleverly manufacturing disturbing dreams for discerning horror comic readers."
-Rue Morgue

"A large and generally very impressive gathering of imaginative and stylish horror fiction . . . richly atmospheric.
-Kirkus Reviews

"The skillful art subtly, or not so subtly, pulls out the creepiness of the premises and plots."
-Library Journal

"Original and toys in macabre fashion with our nerves. Classy, evocative artwork."
-Contra Costa Times

"Deliciously bleak. B+"
-EW.com (Entertainment Weekly)

"Devotees will appreciate the visual interpretations of his [Ligott's] work, and newcomers will find the book an accessible introduction to a genuinely unsettling dreamscape."
-Rain Taxi

"[E]ntertaining from start to finish...These tales of terror exude waves of paranoia and pathos from every page."
-Ain't it Cool News.com

"Worth a visit...the artwork alone warrants a look."
-Fangoria.com

"Beautifully, queasily rendered."
-A.V. Club.com (The Onion)

"I'd recommend picking THE NIGHTMARE FACTORY up and giving it a whirl."
-Myjoblo.com

"A fine, creepy read."
-City Link (Florida)

"Outstanding...moody and deeply disturbing...each of these four stories will elicit a deep visceral response in the reader."
-Fearzone.com

"[A] resplendent and disturbing graphic novel adaptation...More than a graphic novel, this is an event! Don't miss it!"
-CountGore.com

"If you're into horror stories, than I'd strongly suggest checking out THE NIGHTMARE FACTORY."
-Thick Online.com