My Jesus Year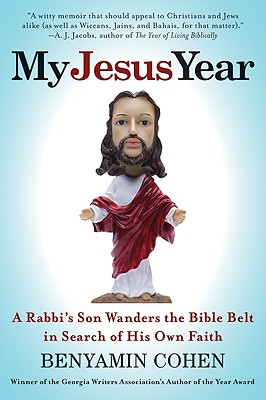 My Jesus Year
A Rabbi's Son Wanders the Bible Belt in Search of His Own Faith
HarperOne, Paperback, 9780061245183, 252pp.
Publication Date: May 6, 2016
* Individual store prices may vary.
Buy at Local Store
Enter your zip code below to purchase from an indie close to you.
or
Buy Here
Description
One day a Georgia-born son of an Orthodox rabbi discovers that his enthusiasm for Judaism is flagging. He observes the Sabbath, he goes to synagogue, and he even flies to New York on weekends for a series of "speed dates" with nice, eligible Jewish girls. But, something is missing. Looking out of his window and across the street at one of the hundreds of churches in Atlanta, he asks, "What would it be like to be a Christian?"
So begins Benyamin Cohen's hilarious journey that is My Jesus Yearpart memoir, part spiritual quest, and part anthropologist's mission. Among Cohen's many adventures (and misadventures), he finds himself in some rather unlikely places: jumping into the mosh-pit at a Christian rock concert, seeing his face projected on the giant JumboTron of an African-American megachurch, visiting a potential convert with two young Mormon missionaries, attending a Christian "professional wrestling" match, and waking up early for a sunrise Easter service on top of Stone Mountaina Confederate memorial and former base of operations for the KKK.
During his year-long exploration, Cohen sees the best and the worst of Christianity #8212;from megachurches to storefront churches; from crass commercialization of religion to the simple, moving faith of the humble believer; from the profound to the profane to the just plain laughable. Throughout, he keeps an open heart and mind, a good sense of humor, and takes what he learns from Christianity to reflect on his own faith and relationship to God. By year's end, to Cohen's surprise, his search for universal answers and truths in the Bible Belt actually make him a better Jew.
About the Author
Benyamin Cohen is the son of an Orthodox rabbi who married a Methodist minister's daughter who converted to Judaism. He was the founder and editor of the award-winning national magazine American Jewish Life and the online magazine Jewsweek, and is currently an editor at the Mother Nature Network.
Praise For My Jesus Year…
"Cohen spends a year on a fascinating and thought-provoking inter-faith exploration. The resulting witty memoir should appeal to Christians and Jews alike (as well as Wiccans, Jains and Bahais, for that matter)."
-A.J. Jacobs, author of The Know-It-All and The Year of Living Biblically

"Cohen's witty and trenchant observations on identity and interfaith relations are like an early Christmukkah present."
-Rob Kutner, author and writer for The Daily Show with Jon Stewart

"A delicious olio of guilt, longing, surprise, wonder, unease and of course humor, Cohen's quest has universal appeal. One need not be Jewish, Christian or even a seeker to enjoy this wonderful loop around the Bible Belt."
-Publishers Weekly (starred review)

"Cohen writes that what he learned from the year's spiritual journey was that there are many paths people take to find faith in God and there are more similarities than differences in various religions. "Hanging out with Jesus has made me a better Jew," he writes. Amen to that."
-Booklist

"My Jesus Year stirs together keen-eyed journalism and a spiritual quest to create a book that can be read both for its heartfelt examination of one man's religous faith and as a revelatory tour of the landscape of Christian life in the U.S. today. "
-Shelf Awareness

"Cohen is an engaging writer and his book is very well worth reading."
-The Jewish Voice and Opinion

"Cohen's prose is insightful, filled with wit, warmth, and wonder."
-Jewish Book World

"This is the story of how Cohen got his Jew back."
-The Atlanta Jewish Times Online

"This hysterical book is literally one of those 'laugh out loud' books that can be imitated, but never duplicated."
-The Atlanta Jewish Times Online

"Cohen's experiences have been quite different from mine, but the life lesson -- that Christians and Jews can learn a lot about their own faiths from the other -- is the same."
-The Jewish Journal

"If there's a prodigal son on your Hanukkah gift list, Cohen's book, subtitled, 'A rabbi's son wanders the Bible Belt in search of his own faith,' could be the book to get."
-USA Today

"Cohen's experiences were certainly different from mine, but the life lesson—that there is a lot Christians and Jews can learn about themselves from the other—was the same."
-Christianity Today

"Orthodox Jews who have gotten past the cover with the "J" word on it have read the book and recommended it to fellow members of the tribe."
-The Jerusalem Post

"Cohen is a Jack Kerouac searching for a way back to his own faith on the Bible Belt's gospel road."
-Atlanta Journal-Constitution

"[Cohen] retells his journey with humor and wit."
-Kansas City Jewish Chronicle