Tribal Leadership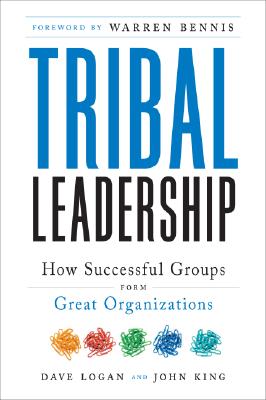 Tribal Leadership
Leveraging Natural Groups to Build a Thriving Organization
HarperBusiness, Hardcover, 9780061251306, 320pp.
Publication Date: January 22, 2008
* Individual store prices may vary.
Buy at Local Store
Enter your zip code below to purchase from an indie close to you.
or
Not Currently Available for Direct Purchase
Description
It's a fact of life: birds flock, fish school, people "tribe."
Every company, indeed every organization, is a tribe, or if it's large enough, a network of tribes groups of 20 to 150 people in which everyone knows everyone else, or at least knows of everyone else. Tribes are more powerful than teams, companies, or even CEOs, and yet their key leverage points have not been mapped until now. In Tribal Leadership, Dave Logan, John King, and Halee Fischer-Wright show leaders how to assess their organization's tribal culture on a scale from one to five and then implement specific tools to elevate the stage to the next. The result is unprecedented success.
In a rigorous eight-year study of approximately 24,000 people in over two dozen corporations, Logan, King, and Fischer-Wright refine and define a common theme: the success of a company depends on its tribes, the strength of its tribes is determined by the tribal culture, and a thriving corporate culture can be established by an effective tribal leader. Tribal Leadership will show leaders how to employ their companies' tribes to maximize productivity and profit: the authors' research, backed up with interviews ranging from Brian France (CEO of NASCAR) to "Dilbert" creator Scott Adams, shows that over three quarters of the organizations they've studied have tribal cultures that are merely adequate, no better than the third of five tribal stages.
Leaders, managers, and organizations that fail to understand, motivate, and grow their tribes will find it impossible to succeed in an increasingly fragmented world of business. The often counterintuitive findings of Tribal Leadership will help leaders at today's major corporations, small businesses, and nonprofits learn how to take the people in their organization from adequate to outstanding, to discover the secrets that have led the highest-level tribes (like the team at Apple that designed the iPod) to remarkable heights, and to find new ways to succeed where others have failed.
Praise For Tribal Leadership…
"Tribal Leadership gives amazingly insightful perspective on how people interact and succeed. I learned about myself and learned lessons I will carry with me and reflect on for the rest of my life."
-John W. Fanning, Founding Chairman and CEO napster Inc.

"[A]n unusually nuanced view of high-performance cultures. . . . [S]hare the book with your Type A's and prima donnas, as it expertly describes the tension between loners who perform exceptionally and those who perform exceptionally but who measure success as part of a team."
-Inc.

"[T]he most thorough and unique book to come along pertaining to organizational dynamics in quite some time....Whether you're trying to move an organization forward or trying to move forward yourself, Tribal Leadership is a great place to begin your efforts.
-Business Lexington

"Leaders of both for profit and non-profit organizations, including politicians, and can benefit from perusing Tribal Leadership."
-McClatchy-Tribune News Service