The Fourth Watcher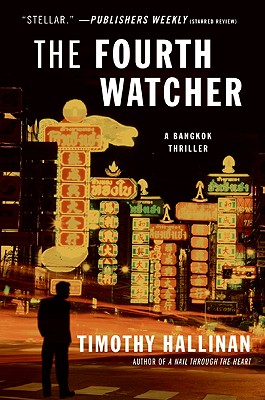 The Fourth Watcher
Harper Paperbacks, Paperback, 9780061257261, 327pp.
Publication Date: June 23, 2009
* Individual store prices may vary.
Buy at Local Store
Enter your zip code below to purchase from an indie close to you.
or
Buy Here
Description
The author of the Looking for Trouble travel book series, Poke Rafferty is ready to settle down in Bangkok with his fiancee, Rose, and his newly adopted daughter, Miaow. But trouble isn't ready to let him go; it's back in Poke's life with a vengeance, in the guise of his long-estranged father, Frank, the last person he ever wanted to see again. And Frank hasn't come empty-handed, arriving with a box of rubies, a wad of fraudulent identity papers, and one of the most dangerous gangsters in China in hot pursuit. With a rogue American Secret Service agent targeting Rose for her unwitting part in a North Korean counterfeiting operation, Poke can see trouble descending from everywhere to attack those he loves and it will take every skill he possesses to keep them, and himself, alive.
Praise For The Fourth Watcher…
"Stellar...Smooth prose, appealing characters and a twisting action-filled plot make this thriller a standout."
-Publishers Weekly (starred review)

"Call me a sucker for thrillers set in exotic foreign locales. Guilty as charged; please let me serve out my sentence in the Thailand depicted by Timothy Hallinan in his wickedly atmospheric new work, The Fourth Watcher."
-BookPage

"Hallinan offers a taut story line enhanced by an insider's look at Thai culture. This book features an unlikely but likeable hero and provides readers with an informed glimpse into a world they are not likely to experience otherwise."
-Kirkus Reviews

"The suspense plot is thrilling, the atmosphere is rich and completely convincing, and this is a compelling and finally very satisfying story, and a terrific 2nd volume in what is turning out to be a very good series of novels. It's a pleasure to settle comfortably into such a book."
-Sullivan County Democrat

"This new breed of character for a series is a welcome addition to the thriller fiction set in Asia."
-Japan Times, 2008 Best of Asia Books

"Don't miss THE FOURTH WATCHER, an outstanding thriller well-steeped in the exotic brew of South East Asian culture and politics."
-Bookloons.com

"THE FOURTH WATCHER is true suspense in the Hitchcock mold. Hallinan has created an exceptional thriller."
-NewMysteryReader.com

"A stunning follow-up to A Nail Through the Heart. It's filled with mystery and suspense—as well as a healthy dose of heart—and it's artfully painted in varying shades of gray. Beautifully written yet satisfyingly seedy, it's a must-read for mystery enthusiasts and literary types alike."
-Nightsandweekends.com

"Hallinan's writing is quick and dirty, with bite-sized chapters that always seem to end with me wanting mor, and making me dive into the next chapter, (and then the next). A fast, exciting read."
-Booksandwich.com

"Action and suspense with well-drawn characters and the gritty and exotic Bangkok setting. But on another level you have the continued exploration of the emotions involved in complex family relations. (A) first rate thriller with a depth you don't always find in the genre."
-CollectedMiscellany.com