L.A. Mental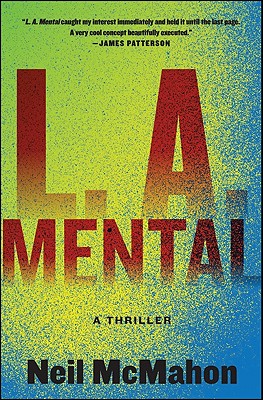 L.A. Mental
A Thriller
HarperTorch, Hardcover, 9780061340789, 304pp.
Publication Date: September 27, 2011
* Individual store prices may vary.
Buy at Local Store
Enter your zip code below to purchase from an indie close to you.
or
Buy Here
Description
Critically acclaimed writer Neil McMahon firmly establishes himself as one of todays top thriller writers with this dark and mesmerizing story that weaves together Hollywood and a cult, old money and futuristic technologiesa powerful tale of suspense sure to catapult him to bestsellerdom.
A respected judge goes berserk, destroying his home. . . .
A wealthy celebrity widow is found floating unconscious in her pool. . . .
A brilliant young astrophysicist is killed when he runs onto a busy freeway. . . .
To psychologist Tom Crandall, the residents of Los Angeles seem to be going insane. Over the past few months, people have randomly become unhinged, exploding in violent, self-destructive rampages. Now Toms younger brother Nick is lying in a hospital bed after narrowly surviving a fall off a Malibu cliff. But, as Tom soon finds out, the accident is only the latest in a string of alarming events involving his troubled sibling. Nick has been blackmailing members of his wealthy family, including his brother Paula would-be Hollywood mogul whose latest project involves a film-production company headed by a charismatic scientist who holds some disturbing theories about power and human behavior.
Concerned about Pauls dealings, Tom heads to the film set, where he meets a physicist turned filmmaker, the brilliant and enigmatic Swede named Gunnar Kelso. Soon Tom is caught in a terrifying scheme that threatens his sanity and his very life, and he must race to uncover the truth before its too late.
A tightly plotted tale of twisting suspense and paranoia, of cutting-edge science, a diabolical conspiracy, and family betrayal, L.A. Mental is a roller-coaster ride from the first page to the last.
About the Author
Neil McMahon holds a degree in psychology from Stanford and was a Stegner fellow. He has published ten novels, in addition to the bestselling thriller Toys, coauthored with James Patterson. He lives in Missoula, Montana, where his wife directs the annual Montana Festival of the Book.
Praise For L.A. Mental…
"L.A. Mental caught my interest immediately and held it until the last page. A very cool concept beautifully executed."
-James Patterson

"McMahon's stellar stand-alone offers a cunning technological twist worthy of the late Michael Crichton…. McMahon easily makes a science fiction concept plausible in a pulse-pounding read that doesn't sacrifice intelligence for thrills."
-Publishers Weekly (starred review)

"Neil McMahon's L.A. MENTAL is as much a mind game as it is thriller, a scientific puzzle buried in a murder mystery, all set against the surreal world of Hollywood filmmaking. Blurring genres and expectations, this is a book that challenges and thrills in equal parts."
-James Rollins, New York Times bestseller of Altar of Eden

"[A] punchy, potent genre mash-up-part thriller, part mystery, a pinch of sci-fi-about a Los Angeles on the verge of a mental breakdown."
-Jason Kehe, Los Angeles Magazine

"With L.A. Mental, Neil McMahon heads into the territory of William Gibson in a fast-moving, compelling tale that's a blend of detective novel and might-just-be-possible science fiction, sure to leave readers hungry for more."
-Michael Koryta, author of The Cypress House, a major thriller coming in Jan. 2011.

"Sure storytelling and elegant writing…. An intoxicating blend of psychology, mind control, physics and movies, leavened with the more familiar plot devices of money, sex and power."
-Michael Moore, The Missoulian

"McMahon offers up a killer so cutting edge and secretly lethal that I'm sure that Homeland Security believes he got into their intelligence files. . . . Twist after turn of wonderfully crafted words."
-Andrew Schneider, two-time Pulitzer Prize winner in investigative journalism