Shop Your Closet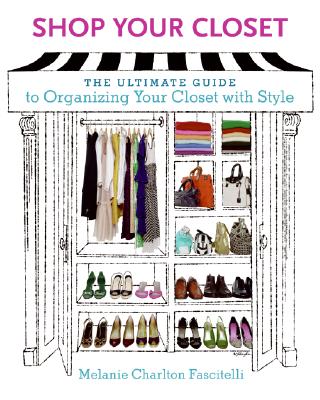 Shop Your Closet
The Ultimate Guide to Organizing Your Closet with Style
Collins Publishers, Paperback, 9780061343810, 160pp.
Publication Date: April 8, 2008
* Individual store prices may vary.
Buy at Local Store
Enter your zip code below to purchase from an indie close to you.
or
Not Currently Available for Direct Purchase
Description
Just when you feared your overstuffed, eyesore of a closet was a lost cause, here's the antidote to all your closet woes. Closet expert and style maven Melanie Charlton Fascitelli is here to help you whip your closet into shape, refreshing your wardrobe and saving you time along the way.
With this accessible, stylish guide, you'll find out how to redo your closet and organize your clothes so that you can, yes, go shopping theresort through shirts, pants, skirts, dresses, scarves, and shoes, all in perfect condition and ready to go.
From the first closet face-off to long-term maintenance, Charlton Fascitelli takes you step by step through the entire process of turning your closet into a "safe haven" for your clothes.
Learn how to:
Face your inner packrat and clean out your closet
Shop for and pick items that flatter your body
Craft the best wardrobe for your lifestyle
Create space in your closet by reworking it logistically
Store your clothes and shoes so they last longer
Charlton Fascitelli also covers consigning or donating all your old stuff; keeping your closet clean and tidy; packing smartly and efficiently; storing your linens; and organizing other areas of your home, including your medicine cabinet, pantry, or CD collection.
Clearing clutter, organizing clothes, and remaking your wardrobe has never been so easy or attainable. Shop Your Closet is your go-to source for closet nirvana.
About the Author


Born in Wisconsin in the 1960's, Kevin Clark grew up with a great interest in all things art. He studied drawing, painting as well as music throughout his school years. It wasn't until the 1990's when he when he was introduced to the art of Olivia that he found his true artistic love - beautiful and confident women. After collecting for many years, Kevin now creates his own work. Never content with one single medium, all the art you see in this book was created using a variety, including painting with gouache, watercolor and acrylics, as well as using colored pencils and oil pastels. For the past year he has kept an online blog that shows his daily progress, describing his methods as he goes along.