You're Not the Boss of Me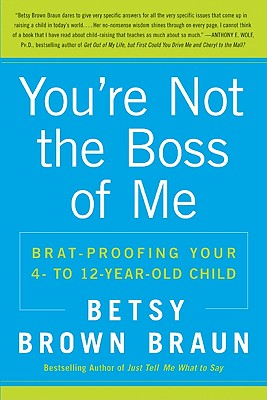 You're Not the Boss of Me
Brat-Proofing Your Four- To Twelve-Year-Old Child
HarperTorch, Paperback, 9780061346637, 249pp.
Publication Date: April 20, 2010
* Individual store prices may vary.
Buy Now
or
Shop Local
Enter your zip code below to purchase from an indie close to you.
Description
"Save me My child is acting like a brat "
What parent hasn't thought her child was a brat at one point or another? Whether your child really is a brat, is at risk of becoming one, or is simply trying to grow up in a world filled with temptations and distractions, you'll love this book It's the ultimate hands-on guide to cultivating character traits that are tried-and-true "bratbusters." Full of no-nonsense, practical "Tips and Scripts," You're Not the Boss of Me offers just the help you need to deal with many of the more challenging behaviors typical of four- to twelve-year-olds. With Betsy Brown Braun's humorous, supportive, and authoritative voice as a guide, navigating some of the most exasperating aspects of these formative years with confidence and laying the groundwork for your child's future just got a whole lot easier
It's All Here What to Say and Do to Help Your Child: Get Over the GimmesTell the Truth Be Self-ReliantDevelop Empathy Show Gratitude Be Respectful Take Responsibility Be Independent Exercise Humorand Not Be Spoiled
About the Author
Betsy Brown Braun is the bestselling author of Just Tell Me What to Say, a renowned child development and behavior specialist, popular parent educator, and mother of adult triplets. She is a frequent speaker at educational and business conferences, has been a guest expert on Today, the Early Show, Good Morning America, and NPR, and has been cited in USA Today, the New York Times, Family Circle, Parents, Parenting, Cookie, and Woman's Day, among other publications. As the founder of Parenting Pathways, Inc., Betsy offers private consulting and parent seminars as well. She and her husband live in Pacific Palisades, California.