The Miracle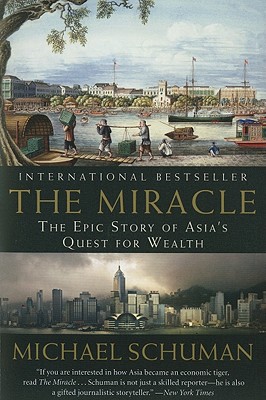 The Miracle
The Epic Story of Asia's Quest for Wealth
Harper Paperbacks, Paperback, 9780061346699, 422pp.
Publication Date: June 29, 2010
* Individual store prices may vary.
Buy at Local Store
Enter your zip code below to purchase from an indie close to you.
or
Buy Here
Description
In little more than a generation, Asia has emerged from centuries of stagnation to become the rising force of the global economy. This transformation has been so spectacular that some have called it a miracle. How did it happen? Taking the reader from the docksides of Korea to the halls of India's finance ministry, The Miracle details the courageous decisions and heroic self-sacrifice that made Asia's ascent possible. Spanning nine countries and probing major historical currents, this account illuminates not only Asia's extraordinary economic rise but also how its causes might emancipate the developing world from poverty and guide the developed world to further prosperity.
Using more than a decade of reporting and analysis, Time magazine and former Wall Street Journal reporter Michael Schuman uncovers how outsourcing to Asia began; how Asia's most famous companies, such as Sony and Honda, became global corporations; and how technological changes and global economic shifts made Asia's boom possible. He reveals the compelling human side to this economic story, introducing readers to the political strongmen, entrepreneurs, and policymakers who made the Miracle a reality. This engaging historical narrative brings to life the ideas and actions of a diverse group of Asians dictators and democrats, generals and technocrats, economists and engineers.
Some of the characters in the book have captured the global imagination for years, such as China's reformer Deng Xiaoping and Sony founder Akio Morita. Others are less well known, including Park Chung Hee, Korea's tightfisted nation builder; Liu Chuanzhi, the risk-taking founder of PC maker Lenovo; and Azim Premji, the mastermind behind Wipro, one of India's technology giants. All of them shared a dream to elevate Asia to its proper place of influence in the world and eradicate the poverty around them.
The Miracle not only offers profound insight into Asia and its increasing wealth and power; it also reveals how these seismic shifts continue to reverberate through the global economy. The implications of Asia's economic ascent for the rest of the world are surprising, promising, and inspiring. Readers of The Miracle will gain a deep understanding of Asia's place in the global economy and of their own.
About the Author
Michael Schuman has been a business journalist in Asia for more than ten years. He is currently the Asia business correspondent for Time and covers economic issues for the entire continent. He also spent more than six years as a correspondent for the Wall Street Journal in South Korea, Singapore, and Indonesia. He won an Overseas Press Club Award with other Wall Street Journal reporters for the newspaper's coverage of the 1997 Asian economic crisis. Prior to his experience in Asia, Mr. Schuman was a staff writer at Forbes. He lives in Hong Kong.
Praise For The Miracle…
"Well told tale of the most extraordinary economic saga of the past century. Read this and you will quickly grasp that the current slowdown in Asia, at worst, will be very temporary."
-Steve Forbes

"The Miracle tells an amazing story, and it's all true. Michael Schuman has done some world-class reporting in putting together this truly timely account. Everyone has a stake in Asia's economy, and we need to appreciate and understand that, especially at this time of global economic uncertainty."
-Wolf Blitzer

"Schuman writes in the same vein of anecdotal pop-economic analysis as Thomas Friedman, with less grandiosity and more nuance; the result is a thoughtful, reader-friendly look at the crucial economic developments of our age."
-Publishers Weekly

"If you are interested in how Asia became an economic tiger, read The Miracle... Schuman is not just a skilled reporter — he is also a gifted journalistic storyteller."
-New York Times

"A rollicking good yarn."
-Far Eastern Economic Review

"Should be read by anyone who imagines that there is an easy answer to the debate between laissez-faire and interventionist economics."
-The Wall Street Journal

"For readers unfamiliar with the story of Asia's rise, Schuman provides an engaging and readable account of some of Asia's key policy makers, national leaders and business tycoons. It is economics as biography, character as developmental destiny."
-Washington Post