The Making of Second Life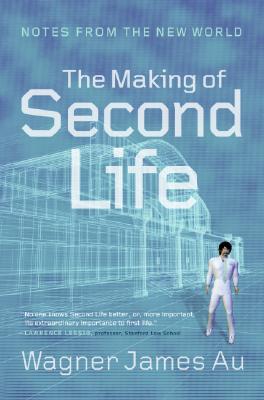 The Making of Second Life
Notes from the New World
Collins Publishers, Hardcover, 9780061353208, 274pp.
Publication Date: February 26, 2008
* Individual store prices may vary.
Buy at Local Store
Enter your zip code below to purchase from an indie close to you.
or
Not Currently Available for Direct Purchase
Description
The wholly virtual world known as Second Life has attracted more than a million active users, millions of dollars, and created its own--very real--economy.
The Making of Second Life is the behind-the-scenes story of the Web 2.0 revolution's most improbable enterprise: the creation of a virtual 3-D world with its own industries, culture, and social systems. Now the toast of the Internet economy, and the subject of countless news articles, profiles, and television shows, Second Life is usually known for the wealth of real-world companies (Reuters, Pontiac, IBM) that have created "virtual offices" within it, and the number of users ("avatars") who have become wealthy through their user-created content.
What sets Second Life apart from other online worlds, and what has made it such a success (one million-plus monthly users and growing) is its simple user-centered philosophy. Instead of attempting to control the activities of those who enter it, the creators of Second Life turned them loose: users (also known as Residents) own the rights to the intellectual content they create in-world, and the in-world currency of Linden Dollars is freely exchangeable for U.S. currency. Residents have responded by generating millions of dollars of economic activity through their in-world designs and purchases--currently, the Second Life economy averages more than one million U.S. dollars in transactions every day, while dozens of real-world companies and projects have evolved and developed around content originated in Second Life.
Wagner James Au explores the long, implausible road behind that success, and looks at the road ahead, where many believe that user-created worlds like Second Life will become the Net's next generation and the fulcrum for a revolution in the way we shop, work, and interact. Au's story is narrated from both within the corporate offices of Linden Lab, Second Life's creator, and from within Second Life itself, revealing all the fascinating, outrageous, brilliant, and aggravating personalities who make Second Life a very real place---and an illuminating mirror on the real (physical) world. Au writes about the wars they fought (sometimes literally), the transformations they underwent, the empires of land and commerce they developed, and above all, the collaborative creativity that makes their society an imperfect utopia, better in some ways than the one beyond their computer screens.
About the Author
Wagner James Au has written about high-tech culture for more than ten years, and has been, at various times, a freelance reporter, a metaverse consultant, a game developer, a screenwriter, and most pertinent, a white-suited avatar named "Hamlet Au," the first embedded journalist in a virtual world, beginning in 2003 a role he still plays on his blog, New World Notes (nwn.blogs.com). His work in Second Life has been cited or profiled in The New York Times, the BBC, CNN International, NPR, Wired, the Boston Globe, and the Washington Post, among many other publications and television programs. He also covers the game industry and online worlds for GigaOM.com. Originally from Kailua, Hawaii, he now lives in San Francisco, California. When he needs to escape the virtual world, he enjoys reality-oriented diversions such as travel, politics, dining, sunlight, and dogs.
Praise For The Making of Second Life…
"In Mr. Au's fascinating account of the rise of Linden Lab and Second Life he interweaves anecdotes so improbable--catching a wireless signal with a soup can?--that you have to remind yourself what's real and what's not.... A remarkable corporate story... he offers some keen observations."
-Wall Street Journal

"Technology journalist Au does a fine job explaining how founder Philip Rosedale and his start-up Linden Lab created this peculiar institution, and his status as a longtime Linden contractor gives him perspective."
-Newsweek

"Au's book is full of rich details about some of Second Life's most important people."
-New York Post

"[Au] presents a comprehensive account that shows why Second Life may be the next great frontier and why it is so appealing to individuals and enterprises worldwide."
-Library Journal

[A] comprehensive history of Second Life's early days…As new virtual worlds come online and try to lure some of Second Life's users and hype, the story of how Second Life came to be may provide a road map for others."
-Reuters

[H]ere, for the first time, Au has managed to narrate the real origins of this well-known virtual world… And there is no one better situated to tell those stories than Au...who has been on hand for more of the seminal moments in this virtual world than anyone.
-Daniel Terdiman, CNet News.com

"[Au] is a thoughtful and erudite writer…. [and his] enjoyable, well-written, and thoughtful…book gives us most complete picture we've had of how this complex and valuable virtual world came to be, what has happened since then, and why the world should care.
-Daniel Terdiman, CNet News.com