Beef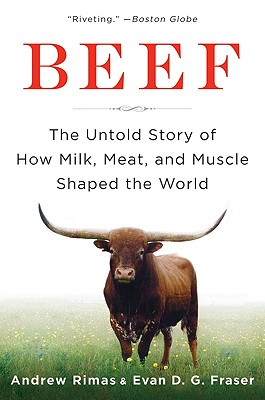 Beef
The Untold Story of How Milk, Meat, and Muscle Shaped the World
Harper Paperbacks, Paperback, 9780061353857, 238pp.
Publication Date: October 13, 2009
* Individual store prices may vary.
Buy Now
or
Shop Local
Enter your zip code below to purchase from an indie close to you.
Description
The cow. Central to human existence since time began, cows have served as a source of food, a means of labor, an economic resource, an inspiration for art, and even as a religious icon—many cultures worshipped the cow as a god.
Beef is the captivating history of an animal whose relationship with humanity has shaped the world as we know it. Peppered with lively anecdotes and culinary tidbits, this engaging panoramic view of the cow's long and colorful history spans the globe—from ancient Mediterranean bullfighting rings to the rugged grazing grounds of eighteenth-century England, from the quiet farms of Japan's Kobe beef cows to crowded American stockyards and the remote villages in East Africa that are home to the Masai, to whom cattle mean everything. Leaving no stone unturned, Beef is not only a compelling story but a necessary call to arms, offering practical solutions for confronting the sad current condition of the wasteful and destructive beef and dairy industries.
You will never look at steak the same way again.
About the Author
Andrew Rimas is a journalist and the managing editor of the Improper Bostonian Magazine. He has worked as an associate editor for Boston Magazine and his writing has appeared in the Boston Globe, Boston Globe Magazine, and the Ottawa Citizen, among other publications. He lives in Boston.

Evan Fraser is an adjunct professor of geography at the University of Guelph in Ontario, Canada and a Senior Lecturer at the School of Earth and Environment at the University of Leeds in the UK. His research is on farming, climate change and the environment. He lives in the Yorkshire Dales with his wife and three children.