To Hell on a Fast Horse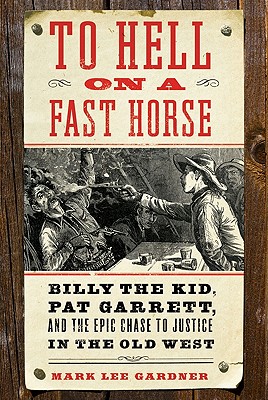 To Hell on a Fast Horse
Billy the Kid, Pat Garrett, and the Epic Chase to Justice in the Old West
William Morrow, Hardcover, 9780061368271, 336pp.
Publication Date: February 1, 2010
* Individual store prices may vary.
Buy at Local Store
Enter your zip code below to purchase from an indie close to you.
or
Not Currently Available for Direct Purchase
Description
A sheriff . . .
An outlaw . . .
A legendary showdown.
Billy the Kid—a.k.a. Henry McCarty, Henry Antrim, and William Bonney—was a horse thief, cattle rustler, charismatic rogue, and cold-blooded killer. A superb shot, the Kid gunned down four men single-handedly and five others with the help of cronies. Two of his victims were Lincoln County, New Mexico, deputies killed during the Kid's brazen daylight escape from the courthouse jail on April 28, 1881.
After dispensing with his guards and breaking the chain securing his leg irons, the Kid danced a macabre jig on the jail's porch before riding away on a stolen horse as terrified townspeople—and many sympathizers—watched. For new sheriff Pat Garrett, an acquaintance of Billy's, the chase was on. . . .
To Hell on a Fast Horse re-creates the thrilling manhunt for the Wild West's most iconic outlaw. It is also the first dual biography of the Kid and Garrett, each a larger-than-life figure who would not have become legendary without the other. Drawing on voluminous primary sources and a wealth of published scholarship, Mark Lee Gardner digs beneath the myth to take a fresh look at these two men, their relationship, and their epic ride to immortality.
Praise For To Hell on a Fast Horse…
"Digging beneath the myths and melodrama, [Gardner] begins in Las Vegas during Christmas week, 1880, when the capture and confinement of Billy the Kid made national headlines... Gardner's extensive research and authoritative approach ground this compelling historical recreation."
-Publishers Weekly

"The double-helix relationship between Billy the Kid and Pat Garrett is one of the abiding fascinations of the West. No one has come closer than Mark Lee Gardner to capturing their twin destinies and their inevitable final collision....you can almost smell the gunsmoke and the sweat of the saddles. "
-Hampton Sides, author of the New York Times bestsellers Blood and Thunder and Ghost Soldiers

"Incredibly deep research combines with the talents of a fine historian and writer to produce superb narrative history. The true character and relationship of these two iconic westerners emerge to suppress myth and correct more than a century of tomes laden with bad history."
-Robert M. Utley

"A masterpiece! Mark Gardner's dual biography of Billy the Kid and Pat Garrett cuts through the myth to tell the real story of two real figures in the Wild West. Gardner's scholarship is superb. This work can only be called a classic."
-David Dary

"As gripping as any thriller."
-Library Journal