Altar in the World, An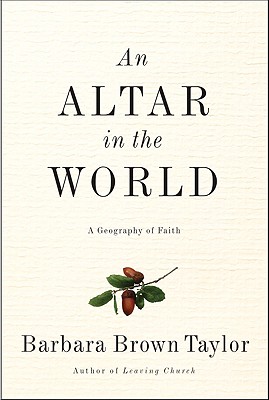 Altar in the World, An
A Geography of Faith
HarperOne, Hardcover, 9780061370465, 240pp.
Publication Date: February 1, 2009
* Individual store prices may vary.
Not Currently Available for Direct Purchase
or
Shop Local
Enter your zip code below to purchase from an indie close to you.
Description
In her critically acclaimed Leaving Church ("a beautiful, absorbing memoir."—Dallas Morning News), Barbara Brown Taylor wrote about leaving full-time ministry to become a professor, a decision that stretched the boundaries of her faith. Now, in her stunning follow-up, An Altar in the World, she shares how she learned to encounter God beyond the walls of any church.
From simple practices such as walking, working, and getting lost to deep meditations on topics like prayer and pronouncing blessings, Taylor reveals concrete ways to discover the sacred in the small things we do and see. Something as ordinary as hanging clothes on a clothesline becomes an act of devotion if we pay attention to what we are doing and take time to attend to the sights, smells, and sounds around us. Making eye contact with the cashier at the grocery store becomes a moment of true human connection. Allowing yourself to get lost leads to new discoveries. Under Taylor's expert guidance, we come to question conventional distinctions between the sacred and the secular, learning that no physical act is too earthbound or too humble to become a path to the divine. As we incorporate these practices into our daily lives, we begin to discover altars everywhere we go, in nearly everything we do.
About the Author
Barbara Brown Taylor's last book, Leaving Church, was met with widespread critical acclaim including the New York Times, USA Today, NPR's Fresh Air, and others. Taylor spent fifteen years in parish ministry and was named one of the twelve most effective preachers in the English-speaking world by Baylor University in 1996. She became a professor of religion at Piedmont College in 1998 and also teaches spirituality at Columbia Theological Seminary. Still a priest in the Episcopal church, Taylor has traveled the world in pursuit of sacred wisdom, finding most of what she needed in her backyard. She lives on a working farm in rural north Georgia with her husband, Ed.
Praise For Altar in the World, An…
"This book is the most practical but everyday mystical book I have read on spiritual practices."
-Kate Campbell, singer-songwriter

"Elegant, wise, and insightful, this book is also sacramental: it mediates the life it describes."
-Marcus Borg, author of Jesus

"An Altar in the World is about how faith can be both practical and sensuous.In Barbara Brown Taylor's hands, the old division between heaven and earth is healed and both come alive. Your mind, your body and your soul will be well fed by this wonderful book."
-Nora Gallagher, author of Things Seen and Unseen and Changing Light

"The author seems simply incapable of writing a bad book. . . . Taylor is a great gift to the Christian church. And this volume, which focuses on spiritual practices, simply adds to her growing reputation."
-Kansas City Star

"Taylor writes fluently, with an eye and ear for the striking image and memorable phrase. Many readers, especially the vast numbers of the "unchurched" but "spiritual," will find support and useful counsel."
-Library Journal

"[A] lovely book. One of the best-known preachers in the country offers equal amounts of wisdom and erudition spent longing for more meaning, more feeling, more connection."
-Booklist

"She's deliberately exploring the turf where our feet hit the floorboards each morning - and where the day takes us into the world. Even if you're not a Christian, you'll find a wise friend in Barbara's book."
-Read the Spirit

"Taylor serves up beefy soul food.. . . Though she did not write the book to speak to the economic crash, those suffering from lost jobs, homes and status will find plenty to feed thought and faith."
-Atlanta Journal-Constitution

"While I don't like long books, this one could have been 500 pages longer with no complaints from me."
-Christian Science Monitor

"This is the most completely beautiful book in religion that I have read in a very long time. Gentle, humbly crafted, lyrical, and deeply wise, Altar is Barbara Brown Taylor as she was meant to be, a pastor who understands that knowing God occurs in a place beyond theology."
-Phyllis Tickle, author of The Great Emergence

"Barbara Brown Taylor is a favorite among church members who struggle to connect the sacred and secular, the heavenly and the earthly. These readers appreciate the candor with which she writes about it."
-Raleigh News and Observer

"…[H]er honest elegance... express[es] truths that throw open windows in our everyday lives–allowing fresh perspectives on life. You'll finish her book with dozens of pages folded over or marked in some other fashion so you can find and re-read favorite lines again."
-Read the Spirit

"Barbara Brown Taylor penetrates the religious clutter. She comforts. She revives our spirits. With lovely words she finds 'alters in our world.'"
-The Congregationalist

"Taylor's spiritual reflections are original, bringing fresh air to her topics because her spirituality is steeped in everyday life while illuminated by the ancient Christian spiritual tradition."
-National Catholic Reporter

"Leaving Church settled it for me that Taylor, as thinker and stylist, ranks with the best. The new book confirms that. . . . This book is not a page-turner. It's a page-lingerer. I wore out a highlighter marking passages I want to read again."
-Dallas Morning News

"An Altar in the World is a delight to the eyes, mind and heart, a book I will certainly return to again at a later time, if only to remind myself of the spirituality of everyday living."
-America Magazine

"Taylor is one of those rare people who truly can see the holy in everything. . . . Savor this book."
-Publishers Weekly (starred review)

"Without denigrating altars in churches, Brown helps us discover and honor all the 'altars in the world'--the red Xs that mark the spot, but that we cannot see because we are standing on them. She does so with a depth that readers will appreciate and savor."
-—U.S. Catholic

"A marvelous book. Barbara Brown Taylor's honesty is so fantastic, and she writes with such wit, that this book is a delight to read and a profound experience ."
-ExploreFaith

"Overall… if one can read Taylor's insights reflectively, with an eye toward Scripture, Altar will serve as a refreshing reminder that the physical world is designed to help us experience the spiritual one."
-ChristianityToday.com