A Splintered History of Wood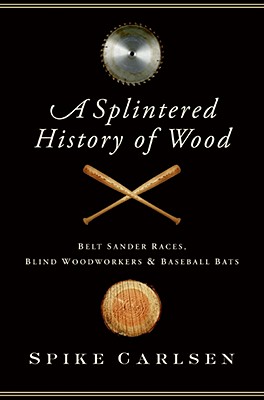 A Splintered History of Wood
Belt Sander Races, Blind Woodworkers, and Baseball Bats
Collins Publishers, Hardcover, 9780061373565, 411pp.
Publication Date: September 2008
* Individual store prices may vary.
Buy Now
or
Shop Local
Enter your zip code below to purchase from an indie close to you.
Description
In a world without wood, we might not be here at all. Without wood, we wouldn't have had the fire, heat, and shelter that allowed us to expand into the colder regions of the planet. If civilization somehow did develop, our daily lives still would be vastly different: there would be no violins, baseball bats, chopsticks, or wine corks. The book you are now holding wouldn't exist.
At the same time, many of us are removed from the world where wood is shaped and celebrated every day. That world is inhabited by a unique assortment of eccentric craftsmen and passionate enthusiasts who have created some of the world's most beloved musical instruments, feared weapons, dazzling architecture, sacred relics, and bizarre forms of transportation. In A Splintered History of Wood, Spike Carlsen has uncovered the most outlandish characters and examples, from world-champion chainsaw carvers to blind woodworkers, the Miraculous Staircase to the Lindbergh kidnapping case, and many more, in a passionate and personal exploration of nature's greatest gift.
About the Author
Spike Carlsen is the former executive editor of The Family Handyman and author of the Reader's Digest Complete Do-It-Yourself Manual. He is also projects editor for Backyard Living, where he pens a bimonthly column called "Ask Spike." He lives in Stillwater, Minnesota.
For every book sold, the author will donate funds to plant a seedling at the Bomalan'ombe Secondary School tree farm in central Tanzania.
Praise For A Splintered History of Wood…
"Who knew wood could be this fascinating?"
-Booklist

"Engaging and exhaustively researched…a solid history of wood."
-Publishers Weekly

"Thoroughly researched, thoughtful, and entertaining…. just enough of the science of trees and wood, and of the technology of wood products and woodworking, to inform but not burden lay readers….Numerous stories add immeasurably to the book's appeal."
-School Library Journal

"Engaging, informative...Spike's wide-eyed enthusiasm is catching, and his curiosity takes him way beyond the ordinary...[Splintered History] is for anyone interested in how this humble material, and the people who work with it, have made us who we are."
-Family Handyman magazine

"Wonderfully strange and interesting....Mixing well-researched history, trivia and humorous anecdotes, A Splintered History of Wood meanders from chainsaw artists to belt-sander races, from Steinway pianos airdropped during WWII to the first know wooden tool: the toothpick."
-NPR Morning Edition