The Somnambulist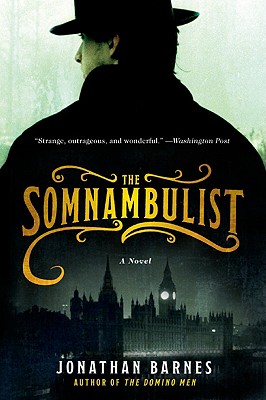 The Somnambulist
Harper Paperbacks, Paperback, 9780061375392, 353pp.
Publication Date: January 6, 2009
* Individual store prices may vary.
Buy at Local Store
Enter your zip code below to purchase from an indie close to you.
or
Buy Here
Description
Once the toast of good society in Victoria's England, the extraordinary conjurer Edward Moon no longer commands the respect that he did in earlier times. Still, each night he returns to the stage of his theater to amaze his devoted, albeit dwindling, audience, aided by his partner, the Somnambulist--a silent, hairless, hulking giant who, when stabbed, does not bleed. But these are strange, strange times in England, with the oddest of sorts prowling London's dank underbelly. And the very bizarre death of a disreputable actor has compelled a baffled police constabulary to turn once again to Edward Moon for help--inevitably setting in motion events that will shatter his increasingly tenuous grasp on reality.
Praise For The Somnambulist…
"This superb debut from British author Barnes raises the bar for historical thrillers."
-Publishers Weekly

"Strange, outrageous, and wonderful … There is much that is strange, magical, and darkly hilarious about this book … An original and monumentally inventive piece of work by a writer still in his 20s. Barnes seems to leave himself room for a sequel—a consummation devoutly to be wished."
-Washington Post

"Old school entertainment in the penny-dreadful tradition that almost succeeds in being as sublime as it is ridiculous."
-Entertainment Weekly

"Magical, dark, beautifully odd–and utterly compelling–this is an astonishing debut."
-Michael Marshall, author of The Intruders

"Sneaky, cheeky, and dark in the best possible way, Jonathan Barnes' massively entertaining THE SOMNAMBULIST manages to make the familiar daringly unfamiliar. I enjoyed the heck out of this novel."
-Jeff Vandermeer

"Macabre wit and stylistic panache. Parliament should immediately pass a law requiring Barnes to write a sequel."
-James Morrow, author of The Last Witchfinder and The Philosopher's Apprentice

"A comic extravaganza, deftly plotted, fiendishly clever, and wonderfully funny. . . . One of the classiest entertainments I've read."
-Christopher Bram, author of Exiles in America

"[B]rilliant...Barnes crafts one of the finest first novels of the young century...Truly surprising plot twists and red herrings abound."
-Austin Chronicle

"A cheeky tale...salvaged from the sensationalist novels of the past three centuries....it doesn't take an English-lit wonk to appreciate the antic mind that would name two of the grotesquely deformed prostitutes in Mrs. Puggsley's brothel after virginal victims of Count Dracula."
-New York Times

"A first novel that shows all the polish and poise of a master storyteller….By turns disquieting, funny, and taunting."
-St. Louis Post-Dispatch

"Anyone who loves a good, kind of creepy thriller most likely will find something to love in [these] pages…. Thoroughly enjoyable."
-Kansas City Star

"The Somnambulist is not your great-grandfather's mystery yarn."
-Richmond Times-Dispatch