Golf My Own Damn Way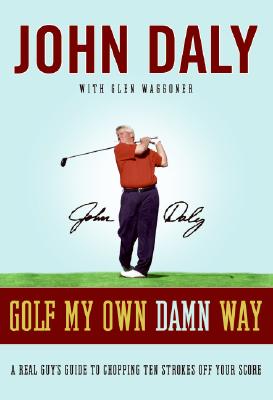 Golf My Own Damn Way
A Real Guy's Guide to Chopping Ten Strokes Off Your Score
HarperTorch, Hardcover, 9780061431029, 158pp.
Publication Date: November 6, 2007
* Individual store prices may vary.
Buy at Local Store
Enter your zip code below to purchase from an indie close to you.
or
Buy Here
Description
If you know anything at all about John Daly—and if you don't, what in the hell are you doing with this book in your hands?—you know he approaches the game of golf from an, uh, slightly different perspective than your average two-time major winner.
How different? Well, for starters, Long John thinks the PGA Tour ought to permit Bermuda shorts, make carts mandatory, let him wear his hair down to his butt if he wants to, and strip-search tournament patrons at the entrance gate to keep cameras and cell phones off the course.
In Golf My Own Damn Way, you'll take a virtual ride on Big John's magic bus as he tells you the best way to grip it so you can rip it. Looking for a sure cure to bunkerphobia? It's here. A one-hour golf lesson that's 100 percent guaranteed to make you a better golfer? Ditto. Want to know why you should occasionally leave your big dog in your trunk, how to watch your weight, and what golf and sex have in common? You came to the right book.
And while he's busy explaining all these and many other things, Daly also tells you why you should keep your head out of the game, let your belly lead your hands, listen to your right foot, check your ball position—and buy a hybrid (the club, not the car).
Following in the spike prints of his 2006 bestselling autobiography, My Life In and Out of the Rough, Golf My Own Damn Way is an off-the-wall and intensely personal yet imminently practical and accessible tip sheet on how to cut ten strokes off your score—now.
Two things are certain: you've never seen a golf instructional book quite like this one, and you'll never need another one.
Fairways and greens, Pard!
About the Author
John Daly is one of the most popular athletes in the world. He has won the PGA's Driving Distance Crown a record-setting eleven times, was named the 1990 PGA Tour Rookie of the Year, and went on to win the PGA Championship the following year and the British Open in 1995.

Glen Waggoner, a founding editor of ESPN The Magazine, is the coauthor of Bobby Murcer s New York Times bestselling autobiography A Yankee for Life, as well as the bestsellers My Life In & Out of the Rough with John Daly and Clearing the Bases with Mike Schmidt. Waggoner was one of the founding fathers of Rotisserie League Baseball, which sparked the fantasy sports movement in America.