GATOR A GO GO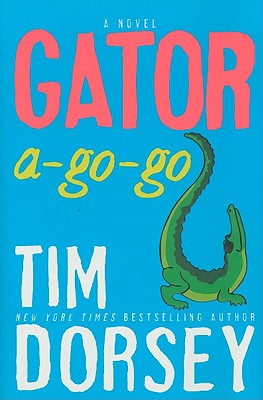 GATOR A GO GO
William Morrow, Hardcover, 9780061432712, 352pp.
Publication Date: February 1, 2010
* Individual store prices may vary.
Buy at Local Store
Enter your zip code below to purchase from an indie close to you.
or
Not Currently Available for Direct Purchase
Description
That's right: Serge and Coleman do spring break!
It's been a long time coming, but they're at the party now—and you'll never look at a Frisbee the same way again.
One spring break location obviously isn't enough for Serge, so he must hit them all, traveling through various historic locales, spewing nuggets of history at anyone who won't run away and dispensing his own signature brand of Sunshine State justice.
Along the way he and his sidekick, Coleman, attract a growing following of the nation's top college students . . . and a mysterious gang that leaves a trail of young bodies in their wake.
Are the kids safer under Serge's protection? Or does being with him put them in more peril? The classroom and the pot brownies never prepared them for this.
Which raises more questions: Who's the guy studying satellite photos? Where did the protected witness go? When did Coleman get all those trophies? Why are the Feds hot on everyone's trail? How did the burnt corpse end up by the pool? What's the best way to keep beer cool on the beach?
Then there are the coke smugglers gone legit and a pair of the most dangerously sexy bartenders to ever mix a rum runner. Throw in some dirty dancing contests, illicit drugs, rockin' tunes, screamin' sports cars, bungee rides, pawned class rings, and church breakfasts, and you've got a potent concoction that keeps the hotel's concierge up all night stopping people from falling off the balconies.
Want even more? Serge says, "You got it!"
After years of quiet, a legendary Miami kingpin from the anything-goes eighties is suddenly back in the news . . . along with one of the state's most psychotic homicidal monsters, every bit as criminally insane as Serge—except without the morals.
The mysteries continue to mount: How did Coleman end up with even more disciples than Serge? Can kids successfully climb fences while carrying pizzas? Will Serge survive the carnage, armed with a GPS and a kiddie pool?
All will soon be answered—and of course every last moment is caught on tape as Serge creates his most excellent documentary ever, the making of Gator A-Go-Go.
Pack the cooler, load the car, and head to where the water is warm for a spring vacation you won't soon forget—no matter how much you might try!