Saving Darwin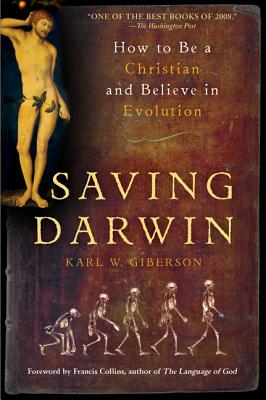 Saving Darwin
How to Be a Christian and Believe in Evolution
HarperOne, Paperback, 9780061441738, 256pp.
Publication Date: June 2009
* Individual store prices may vary.
Shop Local
Enter your zip code below to find indies closest to you.
Description
Evolution Is Not the Bible's Enemy
Saving Darwin explores the history of the controversy that swirls around evolution science, from Darwin to current challenges, and shows why—and how—it is possible to believe in God and evolution at the same time.
About the Author
Karl W. Giberson is director of the Forum on Faith and Science at Gordon College, the executive vice-president of the BioLogos Foundation, and a science professor at Eastern Nazarene College. His books include Worlds Apart, Species of Origins (with Donald A. Yerxa), and Oracles of Science (with Mariano Artigas). He is a contributing editor to Books & Culture.
Praise For Saving Darwin…
"Sensitively written and convincingly argued. . . . [A] truly courageous work."
-Library Journal

"Karl Giberson skillfully unravels the tangled skein of argument about creation and evolution, showing that there need be no incompatibility between Christianity and Darwinism. His writing is lively, in a style that is both informal and informed. This is a book that many will find helpful."
-John Polkinghorne, author of Belief in God in an Age of Science

"Karl Giberson skillfully unravels the tangled skein of argument about creation and evolution, showing that there need be no incompatibility between Christianity and Darwinism. His writing is lively, in a style that is both informal and informed. This is a book that many will find helpful."
-Ronald L. Numbers, Hilldale Professor of the History of Science and Medicine, Department of Medical History and Bioethics, University of Wisconsin

"A much-needed book . . . a powerful contribution."
-Francis S. Collins, M.D., Ph.D.

"Giberson has a native understanding of how conservative Christians feel and think about evolution . . . he sketches an engaging historical narrative.
-Publishers Weekly

Giberson posesses a boundless inquisitiveness typical of many scientiests, but also displays the wry wit of a seasoned polemicist. He seems to know how to counteract your best arguments before you have even made them.
-Salon.com

"An intensely personal account of [Giberson's] intellectual journey from creationism to the acceptance of evolution . . . By situating his own story in the context of larger social and scientific developments, Giberson's book can serve as a guide for other Christians on a similar trek."
-Edward J. Larson, author of the Pulitzer Prize winning Summer for the Gods: The Scopes Trial and the American Controversy over Creation and Evolution.

"A poignant account of [Giberson's] Christian pilgrimage from Creationist to Evolutionist. He offers a sympathetic historical analysis laced with trenchant criticism of both misguided intelligent design advocates and hard core atheists."
-Kenneth R. Miller, Professor of Biology, Brown University, and author of Finding Darwin's God

"Giberson makes the case, persuasively and with considerable wit, that there's no irreconcilable conflict between robust Christian faith and evolutionary biology, rightly understood. This is a wonderfully readable book: humane, modest, and wise."
-John Wilson, Editor, Books & Culture

"Karl Giberson here presents a poignant account of his Christian pilgrimage from Creationist to Evolutionist. He offers a sympathetic historical analysis laced with trenchant criticism of both misguided intelligent design advocates and hard core atheists."
-Owen Gingerich, author of God's Universe, Professor Emeritus of Astronomy & History of Science, Harvard University

Giberson attacks the conundrum [of evolution] with eloquence and clarity.
-Washington Post

"One of the best books of 2008"
-The Washington Post Book World, 2008 Holiday Guide

"Giberson . . . provides an edifying summary of the tenets and the flaws of modern creationism . . . and raises a valuable alarm about the dangers facing American science and culture."
-New Republic