The Drillmaster of Valley Forge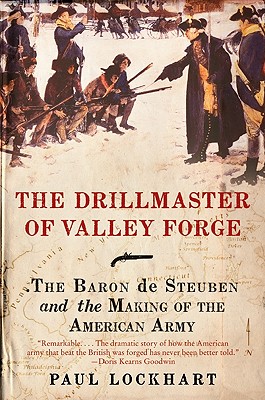 The Drillmaster of Valley Forge
The Baron de Steuben and the Making of the American Army
Harper Paperbacks, Paperback, 9780061451645, 337pp.
Publication Date: February 1, 2010
* Individual store prices may vary.
Buy Now
or
Shop Local
Enter your zip code below to purchase from an indie close to you.
Description
A failure in midlife, the Baron de Steuben uprooted himself from his native Europe to seek one last chance at glory and fame in the New World. Steeped in the traditions of the Prussian army of Frederick the Great—the most ruthlessly effective in Europe—he taught the demoralized soldiers of the Continental Army how to fight like Europeans. His guiding hand shaped the fighting force that triumphed over the British at Monmouth, Stony Point, and Yorktown. But his influence did not end with the Revolution. Steuben was instrumental in creating West Point and in writing the first official regulations of the American army, and his principles have guided the American armed forces to this day.
In The Drillmaster at Valley Forge, Paul Lockhart tells the remarkable story of an extraordinary man—bringing to flesh and blood life the hitherto little-known figure whose image has long been part of the iconography of our Revolutionary heritage.
About the Author
Paul Lockhart is a professor of history at Wright State University in Dayton, Ohio, where he teaches European and military history.
Praise For The Drillmaster of Valley Forge…
"The author generally treats [Steuben] with balance, understanding and great good humor."
-Wall Street Journal

"[An] informative biography. . . . Even readers who care little about the details of Revolutionary War battles may well find Steuben's maneuvers captivating. . . . Unusually well-written. . . with incisive character sketches of Washington, Jefferson, and other patriots complementing Lockhart's full-blooded portrait of Steuben."
-Kirkus Reviews

This entertaining, enlightening, and objective volume is highly recommended."
-Library Journal

Lockhart makes solid use of primary and secondary sources to present a more complete picture of the Continental Army's inspector-general.
-Publishers Weekly

[A] biography that delves into more detail about the man than any other piece of literature to date.
-Quincy Patriot Ledger

"At last, a good look at a great man. Paul Lockhart clears up all the puzzles of Steuben's early life. He also tells an archetypal American story: an immigrant, ambitious, blustering, insecure, who gives his talents and his passion to his new-found home."
-Richard Brookhiser, author of George Washington on Leadership

"Paul Lockhart not only tells us the forgotten story of how this German volunteer transformed the American army. He has also made him an appealing human being. This is an important book for anyone interested in the American Revolution."
-Thomas Fleming, author of The Perils of Peace: America's Struggle for Survival After Yorktown

"Baron de Steuben has finally found the biographer he so richly deserves—and what a terrific biography this is—splendidly written with narrative sweep, deeply researched with colorful details that bring the Baron to vivid life.
-Doris Kearns Goodwin

"Lockhart writes a lively, incisive biography that exposes the inner workings of the Baron's mind and highlights the critical role that he played in winning the Revolutionary War."
-Edward Lengel, author of THIS GLORIOUS STRUGGLE