The Summer of Naked Swim Parties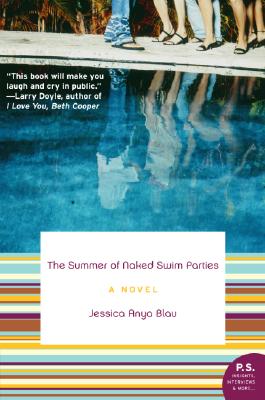 The Summer of Naked Swim Parties
Harper Perennial, Paperback, 9780061452024, 290pp.
Publication Date: May 27, 2008
* Individual store prices may vary.
Buy at Local Store
Enter your zip code below to purchase from an indie close to you.
or
Buy Here
Description
Fourteen-year-old Jamie will never forget the summer of 1976. It's the summer when she has her first boyfriend, cute surfer Flip Jenkins; it's the summer when her two best friends get serious about sex, cigarettes, and tanning; it's the summer when her parents throw, yes, naked swim parties, leaving Jamie flushed with embarrassment. And it's the summer that forever changes the way Jamie sees the things that matter: family, friendship, love, and herself.
About the Author
Jessica Anya Blau is the author of the nationally bestselling novel The Summer of Naked Swim Parties and the critically acclaimed Drinking Closer to Home.
Praise For The Summer of Naked Swim Parties…
"Sadly, not a photo essay, but rather a witty account of the agonies and ecstasies of a girl coming of age in late-seventies California."
-New York magazine

"High and low comedy, nude swimming, and familial frenzy float through [THE SUMMER OF NAKED SWIM PARTIES] like pot smoke."
-Boston Globe

"Reading this heartfelt and humorous coming-of-age story is the perfect way to spend a hot summer day."
-Cosmopolitan

"A fantastic beach read about painful adolescence in the 1970s."
-Oklahoma City Oklahoman

"Move over, summer of love. Here comes the summer of naked swim parties . . . [Blau] knows adolescence inside out . . . [S]he skewers what needs skewering and celebrates the rest with humor, style, and an appropriate degree of affection."
-Booklist

"Jessica Anya Blau's debut novel, THE SUMMER OF NAKED SWIM PARTIES, is a delight: a California beach girl's hilariously painful adolescence in the High 1970s."
-John Barth

"You may think you've heard this story before, but no one tells it as wittily, winningly, wisely and well as Jessica Anya Blau."
-Madison Smartt Bell

"This book will make you laugh and cry in public. Jessica Anya Blau has written a soaring teenage lament, perfectly pitched, containing the single saddest and funniest line of seduction ever uttered."
-Larry Doyle, author of I Love You, Beth Cooper

"Funny and charming, moving and sweet—Jessica Anya Blau beautifully captures the awkwardness and the wonder of coming of age. The Summer of Naked Swim Parties is a remarkable debut novel."
-Michael Kimball, author of Dear Everybody

"Once you dive in to this sweet, sparkling coming of age story, dripping with heart and heartbreak, you won't want to come up -- even for air."
-Hillary Carlip, author of Queen of the Oddballs: And Other True Stories from a Life Unaccording to Plan

"Among the many truths in this intelligent, funny novel about family, sex, and coming of age in the 1970s is this: no one can embarrass us more than our parents."
-Geoffrey Becker, author of author of Dangerous Men and Bluestown

"Having grown up in 1970s Southern California, I can personally attest to this novel's utterly uncanny evocation of the era. It's also really really fucking funny…"
-Jonathan Selwood, author of The Pinball Theory of Apocalypse

"Jessica Anya Blau is a warm and funny storyteller. THE SUMMER OF NAKED SWIM PARTIES conjures the thrills and anxieties of a 1970s California adolescence in a world awash in sex."
-Gabriel Brownstein, author of The Man from Beyond

"Ms. Blau is a writer of wit, intelligence, deep feeling, humor and imagination, and she gets into the head of a young person like almost nobody since J.D. Salinger. All aboard!"
-Stephen Dixon

"Jessica Anya Blau creates a charming protagonist, her charismatic Santa Barbara family and a summer of love, lust and confusion. You won't want summer - and this wonderful book - to end."
-Ellen Sussman, author of Dirty Words: A Literary Encyclopedia of Sex; Bad Girls: 26 Writers Misbehave; and On a Night Like This

"It's hard to recall a debut as warm, charming and comically satisfying as THE SUMMER OF NAKED SWIM PARTIES . . . Blau conveys Jamie's world with compelling insight and wit . . . [Blau's] sharp observation and affectionate humor [give] surprising depth to this shimmering novel."
-San Francisco Chronicle

"Recovered Judy Blume addicts, brace yourselves for a relapse: Jessica Anya Blau's debut novel, set in Santa Barbara, California, during the summer of '76, is a poignant, gleeful ode to the turbulence of growing up . . . [A] dead-on portrayal of the simple yet shocking revelations of youth."
-Time Out New York