The Rational Optimist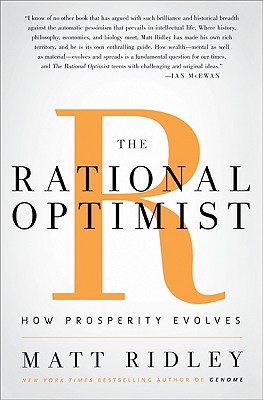 The Rational Optimist
How Prosperity Evolves
HarperTorch, Hardcover, 9780061452055, 438pp.
Publication Date: May 18, 2010
* Individual store prices may vary.
Buy Now
or
Shop Local
Enter your zip code below to purchase from an indie close to you.
Description
Life is getting betterand at an accelerating rate. Food availability, income, and life span are up; disease, child mortality, and violence are down all across the globe. Though the world is far from perfect, necessities and luxuries alike are getting cheaper; population growth is slowing; Africa is following Asia out of poverty; the Internet, the mobile phone, and container shipping are enriching peoples lives as never before. The pessimists who dominate public discourse insist that we will soon reach a turning point and things will start to get worse. But they have been saying this for two hundred years.
Yet Matt Ridley does more than describe how things are getting better. He explains why. Prosperity comes from everybody working for everybody else. The habit of exchange and specializationwhich started more than 100,000 years agohas created a collective brain that sets human living standards on a rising trend. The mutual dependence, trust, and sharing that result are causes for hope, not despair.
This bold book covers the entire sweep of human history, from the Stone Age to the Internet, from the stagnation of the Ming empire to the invention of the steam engine, from the population explosion to the likely consequences of climate change. It ends with a confident assertion that thanks to the ceaseless capacity of the human race for innovative change, and despite inevitable disasters along the way, the twenty-first century will see both human prosperity and natural biodiversity enhanced. Acute, refreshing, and revelatory, The Rational Optimist will change your way of thinking about the world for the better.
About the Author
Matt Ridley is the award-winning, bestselling author of several books, includingThe Rational Optimist: How Prosperity Evolves; Genome: The Autobiography of a Species in 23 Chapters; and The Red Queen: Sex and the Evolution of Human Nature. His books have sold more than one million copies in thirty languages worldwide. He writes regularly for The Times (London) and The Wall Street Journal, and is a member of the House of Lords. He lives in England.
Praise For The Rational Optimist…
"A superb book…Elegant, learned, and cogent…a far-reaching synthesis of economics and ecology, a triumphant new demarche in the understanding of wealth and poverty…Inspiring."
-George Gilder, National Review

"A very good book…a rich analysis…Ridley is a cogent and erudite social critic…He bolsters his argument with an impressive tour of evolutionary biology, economics, philosophy, world history."
-Washington Post

"A fast-moving, intelligent description of why human life has so consistently improved over the course of history, and a wonderful overview of how human civilizations move forward."
-John Tierney, New York Times

"A delightful and fascinating book filled with insight and wit, which will make you think twice and cheer up."
-Steven Pinker

"The Rational Optimist teems with challenging and original ideas…No other book has argued with such brilliance and historical breadth against the automatic pessimism that prevails in intellectual life."
-Ian McEwan

"Ridley eloquently weaves together economics, archeology, history, and evolutionary theory…His words effortlessly turn complicated economic and scientific concepts into entertaining, digestible nuggets."
-Barrett Sheridan, Newsweek

"Invigorating…For Mr. Ridley, the market for ideas needs to be as open as possible in order to breed ingenuity from collaboration."
-Trevor Butterworth, Wall Street Journal

"The Rational Optimist will give a reader solid reasons for believing that the human species will overcome its economic, political and environmental woes during this century."
-Fort Worth Star-Telegram

"This inspiring book, a glorious defense of our species…is a devastating rebuke to humanity's self-haters."
-Sunday Times (London)

"Original, clever and …controversial"
-The Guardian

"A dose of just the kind of glass-half-full information we need right now…A powerful antidote to gloom-n-doom-mongering."
-Washington Examiner

"A mesmerizing book."
-Los Angeles Times

"Ridley's dazzling, insightful and entertaining book on the unstoppable march of innovation is a refresher course in human history...Great ideas spring up unexpectedly from every direction, with each new one naturally coordinating with others..."
-New York Post

A fabulous new book... I was so delighted, amused and uplifted by it that I bought a couple hundred copies and sent one to all my clients.
-Donald Luskin, Smart Money