Evidence of the Afterlife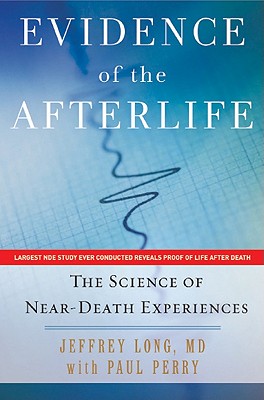 Evidence of the Afterlife
The Science of Near-Death Experiences
HarperOne, Hardcover, 9780061452550, 215pp.
Publication Date: January 1, 2010
* Individual store prices may vary.
Buy Now
or
Shop Local
Enter your zip code below to purchase from an indie close to you.
Description
Evidence of the Afterlife shares the firsthand accounts of people who have died and lived to tell about it. Through their work at the Near Death Experience Research Foundation, radiation oncologist Jeffrey Long and his wife, Jody, have gathered thousands of accounts of near-death experiences (NDEs) from all over the world. In addition to sharing the personal narrative of their experiences, visitors to the website are asked to fill out a one hundreditem questionnaire designed to isolate specific elements of the experience and to flag counterfeit accounts.
The website has become the largest NDE research database in the world, containing over 1,600 NDE accounts. The people whose stories are captured in the database span all age groups, races, and religious affiliations and come from all over the world, yet the similarities in their stories are as awe-inspiring as they are revealing. Using this treasure trove of data, Dr. Long explains how medical evidence fails to explain these reports and why there is only one plausible explanationthat people have survived death and traveled to another dimension.
About the Author
Jeffrey Long, M.D., is a radiation oncologist in Houma, Louisiana, and has appeared on NBC's Today Show, ABC's World News Tonight with Peter Jennings, FOX's The O'Reilly Factor, and The Learning Channel. Long has also served on the board of directors of the International Association for Near-Death Studies and established the nonprofit Near Death Experience Research Foundation and the NDERF website.

Dannion Brinkley is the author of the "New York Times" and international bestsellers "Saved by the Light" and "At Peace in the Light". His books, tours, and lectures, with his wife, Kathryn, have transformed the consciousness of people across the world. Their nonprofit organization, The Twilight Brigade/Compassion in Action, trains volunteers to be at the bedside of our nation's veterans. It was nominated for the Heart of Hospice award in 2008. Dannion and Kathryn share their lives with six children between their homes in Nevada and South Carolina.
Praise For Evidence of the Afterlife…
"Dr. Jeff Long and journalist Paul Perry have done a phenomenal job in clarifying current events in the study of near-death experiences. Dr. Long's work is leading us closer to a rational solution of the afterlife mystery."
-Raymond Moody, M.D., Ph.D., author of Life after Life

"This important book about near-death experiences provides compelling evidence that mind and consciousness cannot be reduced to brain activity."
-Mario Beauregard, Ph.D., Neuroscientist at the University of Montreal and co-author of The Spiritual Brain

"If someone asked for proof that life after death exists, refer them to this book. Dr. Long and Paul Perry have gone way beyond faith and into science, providing us with well-documented proof of what we have known absolutely for 35 years - there is life after death."
-Dannion and Kathryn Brinkley, authors of Saved by the Light and Secrets of the Light

"Is there life after death? ...Radiation oncologist Dr. Jeffrey Long argues that if you look at the scientific evidence, the answer is unequivocally yes. Drawing on a decade's worth of research on near-death experiences... he makes the case for that controversial conclusion."
-Time.com

"Long answers skeptics . . . does a fine job of summarizing some of the transformative changes from NDEs.... The end result of all this testimony, according to Long, is 'there is life after death.'"
-Spirituality and Practice